GEMS hosts STEM event for middle school girls
For the third consecutive year, Girls in Engineering, Math and Science (GEMS) is hosting an event for middle school girls to increase and encourage interest in math and science. The event will take place at SC on Saturday, Feb. 8 from 8 a.m. to 2 p.m.
"Often times, girls in STEM need a support system," GEMS captain Evie Anagnos '20 said. "'Introduce a Girl to STEM day' was founded for girls before they come to high school in order to have a positive and encouraging environment with their peers."
"Introduce a Girl to STEM Day" consists of information sessions regarding engineering, math, science, and technology.  There are activities and games for girls to get to know each other and enhance their love for STEM. Last year, for example, they had an escape room for participants to solve. The event is a good introduction to LT for middle schoolers that attend the LT feeder schools, GEMS advisor Loyola Pasiewicz said.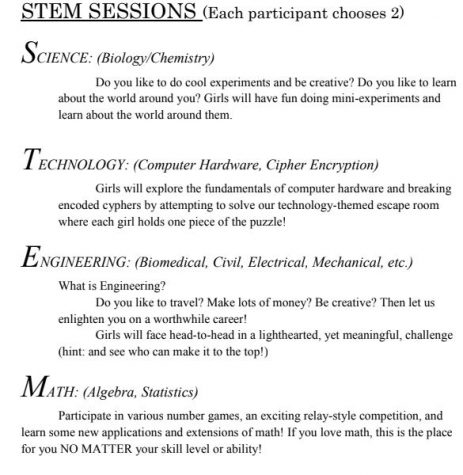 "It's cool to see how I once experienced [Introduce a Girl to STEM Day] and now I'm going to teach girls about STEM," GEMS member Malia Fink '22 said. "I hope it will encourage girls to join GEMS like I did and get them a lot more interested in joining a STEM career."
The event will host a guest speaker. In the years previous, an architect and an app designer spoke. This year's guest speaker has not yet been chosen, Pasiewicz said at the event planning meeting on Jan. 14.
GEMS recruits girls in fifth to eighth grade from all of the LT feeder schools and girl scout troops in the area. Over the years, they have had over 200 students, Anagnos said.
"It's a positive experience for them and the high schoolers and overall," Pasiewicz said. "It shows the middle schoolers that it's cool to be a girl that likes STEM stuff. At the end of the day everyone leaves pretty happy with a smile on their face."