Student starts coding company
From a young age, Colin Flueck '21 has had an obsession with Legos and building, which sparked his strong interest in coding and robotics. Now, Flueck hopes to use the knowledge he has to offer other students interested in Science, Technology, Engineering, and Science (STEM) something that they'll be able to use for the rest of their lives. After learning that many elementary and middle schools lack STEM classes, he decided to kickstart his CodeX Education business.
"Learning coding and robotics through games and activities at home or at various classes taught me important skills like problem-solving, perseverance, and creativity," Flueck said. "While there are great programming classes at LT and a few classes at some of the middle schools, I noticed a real lack of STEM classes for most K-8 students in the area. I started CodeX Education to provide students with quality coding and robotics classes to introduce the world of code and foster the skills that coding taught me."
CodeX Education sent out job applications for students 16 years or older, interested in working with CodeX Education starting at $15 an hour, Flueck said. They offer hour-long classes for students once a week for four weeks, at a rate of $49. The first three weeks of class are spent introducing certain coding concepts like Scratch, a programming language where children can program and share interactive media with people all over the world.  By the last class, students will have obtained enough knowledge about coding allowing them to create their own game with some support from the instructors.
"Our goal is to offer our classes to as many students as possible," Flueck said. "Knowing that we have even inspired one student to become interested in coding and robotics makes our job worth it."
Classes have already begun for the year, starting Nov. 13 with one weekly class at McClure Junior High. However, over the next few months, more classes will begin at other elementary schools and junior highs, CodeX employee Colleen Sullivan '20 said.
"I've come to realize that coding isn't just a program that runs once on one computer but that it can be a positive force for change in the lives of people all over the world," Sullivan said.
The original inspiration for CodeX Education started when Flueck learned that a group of high school students received a grant to teach coding, which inspired him to build his own self-sufficient business to bring coding classes to local D101 students, Alex Flueck, Colin's dad said.
"We encouraged him to take on the challenge of building a company that could create a fun learning environment for younger students," Alex said. "Starting a business is a major endeavor with real responsibility. It requires upfront planning, serious commitment, and external partners. If your child wants to do something similar, then do your homework, get ready to help when needed, and above all make sure your child is committed to putting in all the hours of hard work."
In the future, Flueck hopes to pursue a Computer Science major in college, with the hope of entering the business world with his technical background, Flueck said.
"CodeX has been a great opportunity for me to challenge myself and explore the world of business," Flueck said. "Most importantly, however, CodeX Education is proof that a dedicated individual—no matter how young or inexperienced—can produce a valuable service that has a major beneficial impact on their community."
About the Writer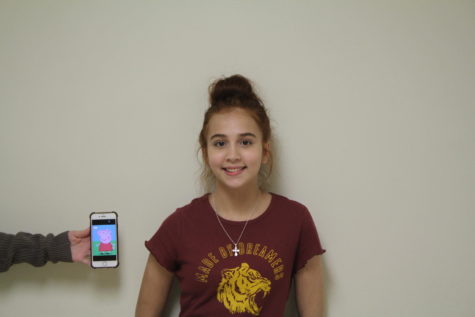 Brianna Fonseca, Reporter
peppa… what are you doing in my mugshot?