Veterans' Memorial showcases LT history
LT has an immense history that dates back to the school's establishment in 1888. The school has been through both world wars, with many students leaving to serve their country, art teacher and co-designer Patrick Page said. As a way to pay tribute to those students and many other military veterans, LT has put together a collection of artwork and primary sources such as drawings or war propaganda to help remember the efforts of students during these wars.
"Through a lot of primary research, we were able to put together not just a generic memorial for veterans, but an LT specific one," Page said.
The memorial consists of a collection of articles from the LION newspaper during the wars, as well as artwork from past and current students.
"The research was taking place even before the idea for the memorial came up," Page said. "We had students and staff working hard to find these old articles, because we wanted to preserve LT's history."
The hall also includes a space dedicated to physics teacher Joseph Barker and his time served, which displays a flag and brief description of his military service.
"[The memorial] is awesome, I can't stop telling people about it," Barker said. "Hopefully it will remind people that LT has a history of service, showcasing students putting service before themselves."
Construction and design of the memorial hallway took place over the summer and took about 100 hours of student help, Page said.
"By putting this hallway together, we are able to tell the real story of the wars," Page said. "For example, [we can change] how we perceive that only men took part in war efforts, when in reality, women contributed just as much."
During the Veteran's Day assembly on Nov. 11 at NC, LT graduate and veteran Fred Barofsky '63 expressed his gratitude to the students of LT for their acknowledgement of veterans in the community, specifically the memorial hall.
"I don't think there is another [high school] in the area that spends as much of its time dedicated to military veterans," Barofsky said during the assembly. "The wall of honor is really a wonderful tribute to the veterans and the veterans before us."
Along with Page, psychology teacher Mike Morrison contributed to the design of the hall. LT graduates Noah Denten '17 painted the mural which hangs at the end of the hallway and Natalie Kraus '15 helped design the layout of the memorial.
About the Writer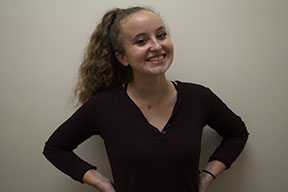 Isabella Sorice, Social Media/Photo Editor
"I don't have time to write a staff bio"