Student owns Wild Scrunch
After seeing her sister's college roomate selling scrunchies in her dorm room, Caroline Garvin '20 was inspired to create her own scrunchie business. She is now the owner of Wild Scrunch.
"When I first started, [Wild Scrunch] was nothing," Garvin said. "It was just me trying to make money."
In order to get her product noticed, Garvin created an Instagram and website where photos of her scrunchies are displayed.
"As the Instagram started to grow and more people began following it, I created a website," Garvin said. "Once I created the website it was a lot easier for me to keep track of things and then [Wild Scrunch] just blew up."
Garvin's customers are mostly from Illinois, but she has sold her scrunchies to people in California, Texas, New York and just recently, Indonesia.
"[Wild Scrunch] has started to go international which is really cool," she said.
Garvin's father owns a business, so he helps her with that aspect of the company.
"He told me to drop a business card in public or when I'm at the Apple store, put my website on the computers so people see it," Garvin said.
Garvin gets most of her fabrics from Joann Fabrics and occasionally Hobby Lobby. To make the scrunchies, she sews a long strip of fabric shut, flips it the right way out, shoves the elastic in the fabric and then sews the elastic together. The process takes about four minutes.
"I would love to improve the time it takes to make one or two scrunchies," Garvin said. "I would maybe in the future hire my friends to sew [scrunchies] for me and I could just be in charge of the big stuff."
The prices of scrunchies range from $2 to $5, and she also plans to sell other items, such as headbands, in the future, Garvin said. So far, she has made around $800 selling her scrunchies.
"I love how inexpensive her scrunchies are, and Caroline sometimes does a giveaway or sale," friend Grace Roberts '21 said. "I also love how high quality they are. They stay in really good shape and don't lose their 'scrunch' really fast."
Garvin currently sells 50 different products, the "Harvest" scrunchie being the most popular, she said.
"My favorite scrunchie I have of hers is called 'Harvest,'" Roberts said. "It has a bunch of flowers on it with gorgeous fall colors. As soon as I saw it on the Wild Scrunch Instagram, I knew I had to purchase it.
Garvin plans to continue with her business in college and possibly take businesses classes in college to help with the growth and development of it, she said.
"I really enjoy running my own company and I don't plan on quitting any time soon," Garvin said.
Customers can view or purchase Wild Scrunch products on the Instagram @wild.scrunch and the website www.wildscrunch.com.
About the Writer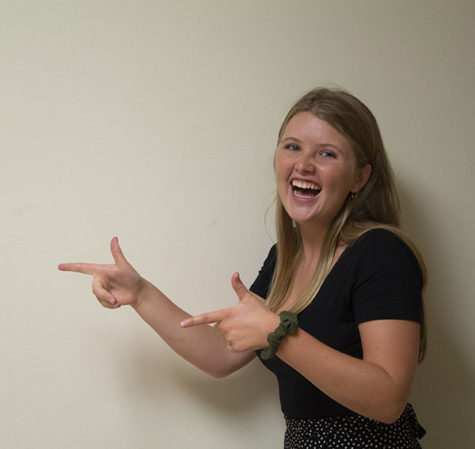 Anna McCormick, News Co-Editor
To the left is my bestie Dani! She is athletic, smart, pretty, and determined to do her best. She also has a nut allergy.