Sophomore strives to pursue career in videography
When Connor Reblin '22 was 9 years old, he bought the first edition GoPro with his older brother, he said. He started to capture small moments in his life. Over time, Reblin's passion for making videos grew stronger and he realized what he wanted to do for the rest of his life: videography.
"Each video I make is an experience," Reblin said. "You learn from one video to the next just like anything in life, and every video I make betters me in the video field. As a person it brings new experiences to the table. There are a lot of cool people I wouldn't have met or even known who they are if it weren't for videos. [Videography] has really matured me in a sense, and I just really enjoy making them."
At 16 years old, Reblin works on video art and freelance for different people, such as friends, family, community members, and companies for various products like hammocks or shirts. Each video varies in time and cost depending on the type of project and the deadline given, he said.
"I'm so proud of Connor's work," Maureen Houston, Reblin's mother said. "He spends hours and hours each week patiently editing and improving his skills. He has always been determined and hardworking, and it shows in the videos he creates. I am impressed with the amount of time he spends researching and practicing how to become better at making videos."
Currently, Reblin is working on video projects for three different groups: LaGrange Field Club football, LT soccer, and Forever Yogurt. Reblin and Kyle Niego '19 have been the head marketers for Forever Yogurt in LaGrange since October. They both run the social media accounts and website as well as advertising for the company.
"I just have a good time making [videos]," Reblin said.
"I just have a good time making [videos]," Reblin said. "As I got older, I realized there is a higher demand for videos than ever before. It is only on the rise. Watching movies and YouTube made me want to be a part of that community"
To shoot his videos, he mainly uses equipment that he rents from LTTV, his Canon TSI camera and his phone, Reblin said. With the help of his teachers from LTTV, Reblin has the ability to learn new ways of editing and skills to better enhance his videos.
"[Reblin] came to LTTV with a strong reputation preceding him," Supervisor of Television Services Bill Allan said. "I had heard about him from several of my other students.  I saw many of his video projects, which helped me get a better idea of how to guide him. I try to give him feedback and suggestions for how he can grow his knowledge and skills."
The most difficult video project to create was his own version of the A$AP Rocky L$D video, Reblin said. Altogether, the video took 40 to 50 hours to design because Reblin tried to generate the whole video without help from tutorials. He had to start from scratch by first making a shot list of what he wants to shoot. After shooting, the editing was a tedious procedure. Reblin then uploads the finished video to his YouTube channel, @connorreblinproductions, where all of his videos are published.
Reblin plans to graduate early his senior year of high school by the end of the first semester. After graduation, Reblin wants to pursue a career in videography and travel to different places around the world.
"The end goal is to make people happy when they watch my videos," Reblin said.
About the Writer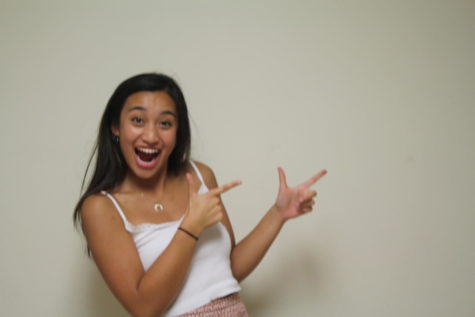 Dani Almase, Pulse Co-Editor
To the right is my bestie Anna (aka Cormy)! Anna is the most beautiful girl. She's so sensitive and intelligent. She also has a nut allergy.