Student succeeds in songwriting
When Allison Keeley '20 was 6 years old, she saw a drum set in a Pottery Barn Teen catalog and thought it would make her look cool, she said. Twelve years later, Keeley has reached over 25,000 listens on her SoundCloud. Her most recent song, "Somewhere in LA," hit 1,000 plays within 24 hours of being published.
"I feel really grateful for all the support I've received through SoundCloud," Keeley said. "I've had people listen from all over the world which is pretty amazing to think about."
Keeley started writing original songs at the end of middle school, she said. Her inspiration for music comes from a variety of music, movies, TV shows and even poetry.
"Anything that can influence a thought or an emotion, that's where my songs come from," Keeley said.
Keeley's song "Rock Garden," which details the loss of a sibling to drug addiction, was influenced by the movie "Beautiful Boy," a story about a son struggling with addiction. "Beautiful Boy" struck Keeley with new emotions that carried over into her songwriting, she said.
"Similar to how an actor or an actress plays a character, I feel like you can do the same thing with songwriting," Keeley said.
Her songwriting process starts with voice memos and lyrics in the Notes app on her phone, Keeley said. From there, she adds in other instruments while recording her music on Garageband.
"Even when I'm sitting in class, I'm always thinking of lyrics and melodies," she said. "When I go home from school the first thing I do is pick up my guitar."
The songwriter she looks up to the most is Phoebe Bridgers, an indie rock musician, Keeley said, she first discovered Bridgers' music her sophomore year while facing a writer's block. Bridgers inspired Keeley to keep writing music in order to make her audience feel the way she did when she first listened to Bridgers, she said.
"It's the kind of music that you turn on and it sends tingles down your spine," Keeley said. "I wanted to write music like that."
Keeley wants to continue playing music for the rest of her life, she said. Right now, she is applying to colleges for songwriting. On Oct. 4, she performed at LT Choir's event, Monster Bash. She sang her original music, played the drums and performed "Country Roads (Take Me Home)" with Chris Vasti '20.
"She leaves [me] speechless with just the sheer amount of talent she possesses," Vasti said.
She wants each listener to find their own meaning in her music, Keeley said. Instead of telling people what her songs are about, Keeley lets people listen for themselves to try and find their own meaning in her music.
"You make every song you listen to your own," Keeley said. "It fits into your life the way it needs to."
About the Writer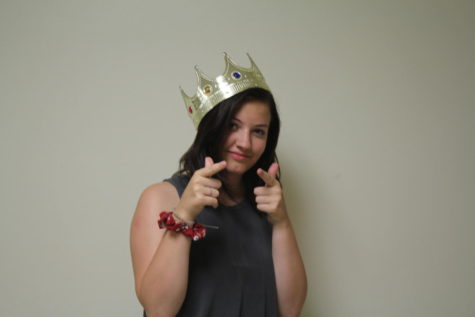 Olivia Janik, Co-Editor in Chief
I'd like to thank my arms for staying by my side, my fingers for always being there for me to count on, my back for supporting me and my hips because...