Local schools transition to new grading system Standard-based grading system offers new approach to learning
Hang on for a minute...we're trying to find some more stories you might like.
Beginning this year, some local elementary and middle schools in Districts 101 and 102 began using the standard-based grading system. This system focuses on providing students with feedback to help them master specific standards.
"We believe very strongly that grades should be about the communication of progress and that kids, staff, and parents should use grades to show progress," Field Park Elementary principal Ashley Burger said.
In standard-based grading, students receive a mark (a number ranging from one to four) for a specific learning goal instead of a letter grade, Burger said. A four demonstrates above and beyond understanding of the skill.
"Standards based grading is not about self-worth"

-Field Park Elementary principal Ashley Burger
"[Standard-based grading] is not about self-worth," Burger said. "Feelings are often associated with letter grades, but in standard-based grading students and parents know specifically where they are in the pathway towards learning a specific skill."
At Field Park, the report card format is new, Burger said. The report card will consist of a two-page document with a breakdown of each skill in each reporting area. Students will receive a mark in that particular area, and there will be comments on their progress.
Although Field Park and two other elementary schools in District 101 have transitioned into standard-based grading, the middle school, McClure Junior High School, has not.
"[The committee] is not sure what we will do with McClure," Burger said. "We want to make sure we are preparing our kids. We expect our kids to be able to grow and be applicable in any grading system."
In addition to District 101 schools, all District 102 schools have gone in this direction, including Park Junior High School. District 102 schools have begun a pilot standard-based grading system and plan to implement the revised program in the 2020-21 school year.
At LT, many teachers have implemented the standard-based grading scale in their classrooms, Director of Curriculum and Instruction Scott Eggerding said. Many teachers in the science and math department feel [standard-based grading] better reflects how students are learning the different skills in the science area.
"I started using [standard-based grading] because of a conversation at a math conference with a former administrator [from a different school district] who authored several math books," physics teacher Joseph Barker said. "He suggested some articles to read and consider.  After a fair amount of research and thought, it seemed a very logical approach."
In Barker's class, students are able to retry specific skills on tests until they receive the mark that satisfies them, Erin Dickett '20 said.
"If I did poorly, I had the opportunity to get a four [the top mark]," Dickett said. "It was stressful, though. It was time consuming to study for another unit while still studying for the previous one, but it was worth it."
The way teachers grade their students at LT is based on teacher discretion, Eggerding said. The classes currently using standard-based grading are experimenting with it.
"Everybody has a different version of [standard-based grading,]" Eggerding said. "What is a three for one teacher may not be a three for another."
Although specific classes use this new grading, Eggerding does not see the whole school transitioning to standard-based grading.
"The teachers who are using standard-based grading right now are very much evolving on how it works and how to make it work, but I don't see us changing as an entire school," Eggerding said.
The reason for this is because it is hard to make the standard-based grading system consistent amongst a course or a school, Eggerding said. Teachers can have different interpretations and methods using the system.
"I think there's a lot of things we can do to improve grading that don't require a standard-based system, and that's something we'll be focusing on," Eggerding said.
About the Writer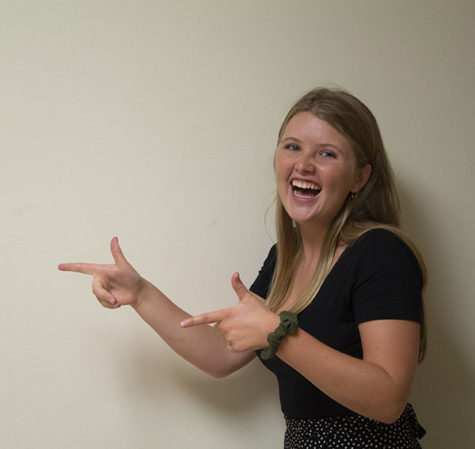 Anna McCormick, News Co-Editor
To the left is my bestie Dani! She is athletic, smart, pretty, and determined to do her best. She also has a nut allergy.