German exchange students come to LT
On Oct. 11, Spencer Frech '21 led his new friends from Germany through the doors of LT and into the atmosphere of an American high school. Ready for the day ahead of them, the three students made their way through the crowded hallways.
"[In doing the German exchange program], we broaden our students' global perspectives and also allow them to form lifelong friendships with kids from across the world," German teacher Shannon Murray said.
The previous day, 11 students from Stuttgart, Germany, alongside Midrow and Nguyen, travelled to the U.S. Each student was matched with a student from an LT German class, whose family was willing to host them for the two weeks they were here.
Some students, including Frech, were assigned two students instead of the usual one to live with and guide through the school days, Murray said. LT host families also had weekends with their exchange student(s) to see football games, go downtown, or find other activities to partake in together.
"[We want to show our students that] there's more than our little Western Springs bubble," Murray said. "You can't just learn about [the world] in a classroom."
Students apply to become members of the German exchange program during their sophomore or junior year, Murray said. They do this by filling out an application form and completing an interview with Murray.
If accepted, students taking German at LT have the opportunity to host a student from Germany the following school year, Murray said. They also have the chance to travel to Stuttgart and stay with the student they hosted and their family. 
"I [was] very excited for the student exchange because I [was] interested to see how different our culture is from theirs," Frech said. "I [was] also looking forward to [forming] some new relationships that could last for a long time."
During his time in the U.S., Eric Gursch shadowed another LT host, Colin Cummings '21, and found American school to be very different compared to that of Germany.
"I really wanted to visit America because I had never been here before and wanted to experience [a new] culture," Gursch said.
Frech, Cummings and their classmates were responsible for guaranteeing that each and every exchange student felt welcomed at LT and at home in an unfamiliar place, Murray said.
"We want to make sure they feel they are just as much a part of our LT family as everybody else is," Murray said. "Because I [had] such great students doing [the program], I [knew] that they [would do] a good job making sure that the German students [felt] included."
Murray also plans to take her students and their partners to the German exchange Main Event on Oct. 24, where German and American students will be able to hang out and play arcade games as well as laser tag.
"I have really enjoyed [this experience] because everyone is so friendly and there are a lot of differences between here and home," Gursch said. "My favorite part was definitely [attending] school here."
After a busy two weeks in America, the 13 German exchange students will say their goodbyes and leave for Stuttgart on Friday, Oct. 25.
"Watching [the German and American students] interact with each other has been so heartwarming," Murray said. "[For example] the welcome dinner on Tuesday was so memorable because none of the students were on their phones and instead were engaging with and including one another."
Frech and his classmates are looking forward to their visit to Stuttgart in March, they said, for the chance to meet their German host families and become immersed in a new culture.
"I'm very excited to see [what] the classes my exchange students take [are like]," Frech said.
About the Writer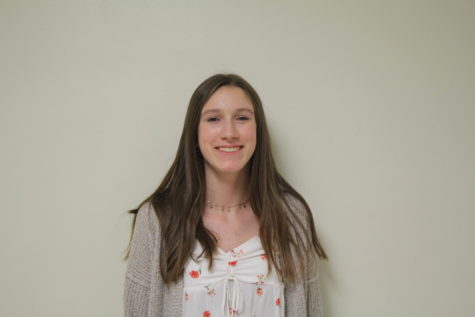 Lillie George, Reporter
The only reason I joined the Lion is so I could feel like Rory Gilmore.