Corral recently adds new features to Friday Night Ins
In an attempt to expand the options for students already participating in the Corral's Friday Night Ins and to encourage more people to come, the Corral staff decided that they needed a few upgrades, LT and Corral staff manager Paul Godinho said.
"The 'Friday Night In' program is fundamentally about tapping into what the students want to do," Corral staff member Brian Thomas said. "We want to find ways to engage and support that."
These night events at the Corral first came to be in 2015 when multiple groups of students asked for places where they could play boardgames, videogames or just hang out, he said. Godinho and Thomas agreed to create a free event every Friday for just $5 per person from 6:30-10:30 p.m. to satisfy all of their wants.
"Largely, I think all decisions we make about the venue should work toward including more students and allowing them to feel they have a space focused on them and their interests," Thomas said.
For this reason, they have recently purchased two top-of-the-line pinball machines, shuffleboard, two new ping-pong tables and new felt for all of the pool tables. They are also looking into upgrading their sound system for students to use and to help with possible future events like 'Battle Of The Bands,' he said.
"I hope to see [Friday Night Ins] grow and for students to utilize the space and opportunity to pursue their own passions and interests," Thomas said. "It would be wonderful to see this program continue to be able to support their activities."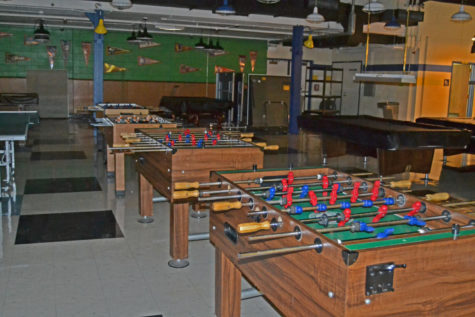 Student turnout varies quite a bit based on multiple factors. By and large, they have around 15-80 students show up each week, Thomas said. In general, the more consistently they host the program, the more students show up. So returning from summer break usually lowers the turnout.
"I am thrilled when the Corral feels full and exciting," Godinho said. "But when the turnout is low, it offers me, Mr. Thomas and the rest of the staff the opportunity to engage more fully with the students who are there. I am afforded the chance to find ways to be present in the community the students work to create."
Students find the events to be a great way to further connect with their friends while playing games or even just sitting around to eat and talk, Josie Berger '20 said.
"I always look forward to going to them because it helps keep you connected to your friends without worrying about making formal plans," Berger said. "The best part is the community and how everyone who goes there gets along. I hope that more people will be able to find a sense of community there and know that there is room for everyone."
There are also hopes to create a Corral Board of Students to help plan various future events and functions of the Corral, Godinho said.
"The building belongs to LT students," he said. "It should be up to them to come up with great ideas that will be fun and beneficial to the entire school."