LT Hall of Fame gains two pilots
In continuing a valuable tradition at LT and honoring the accomplishments and service of the school's alumni, an induction ceremony was recently held for two new LT Hall of Fame inductees over homecoming weekend.
"It is important for us to honor our alumni [for their life accomplishments] and invite them back to LT to work alongside students," community relations director Jennifer Bialobok said. "We want students to realize that these very accomplished people once sat in the same chairs and walked the same halls as them when they were their age."
This year, the two new alumni, Karen Koenig and Major General David W. Forgan, were both recognized as high achieving pilots.
"What really strikes me about all of the inductees is what they have to say about LT when they return," Bialobok said. "They are always so anxious to come back. It never ceases to surprise me that they hold such high regard for this place."
Karen Koenig, having graduated in LT's class of 1975, was able to attend the ceremony and homecoming parade on Saturday, Sept. 28 at LT. Honored for her impressive life accomplishments, Koenig watched her plaque be added to the wall outside the Reber Center. That previous day, she also spoke in aviation classes, arousing inspiration among aspiring pilots, LT aviation teacher David Root said.
"A lot of students were really interested in the fact that Koenig is someone who was here at LT once," Root said. "They were also really impressed with her accomplishments — she told us about how her crew was the first all-female flight crew for the United Parcel Service (UPS)."
Koenig's interest in planes was sparked by her involvement in aviation classes at LT, Bialobok said. After high school, she attended the Institute of Aviation at the University of Illinois where she also took her first solo flight and eventually earned her commercial license in 1976.
"All of the sacrifices, time away [from home], hard work and challenges were worth it," Koenig said. "[I had] a great career."
Faced with discrimination in such a male-dominant industry, Koenig resiliently rose to the top of her career after graduating from Illinois State with a bachelor's degree in industrial technology in 1984. Hired as a flight engineer at UPS in 1991, she was eventually named Captain in 2003.
Koenig advises students to "work hard, ask for help, and have a good attitude," she said. All the rest, she says, will fall into place.
Alongside Koenig at the induction ceremony was Shirley Forgan, spouse of inductee Major General David W. Forgan who passed away in 2013, Bialobok said. Forgan expressed her appreciation for the ceremony, as she was glad to be able to honor her husband and also enjoyed taking part in the homecoming parade.
"In spite of the rain, Saturday was a very special day," Forgan said. "I enjoyed all the festivities — the parade and the children clamoring for candy I threw from the convertible, the unveiling of the plaque at the Hall of Fame brought tears to my eyes."
Forgan's husband was an accomplished pilot, to say the least, Bialobok said. Graduating from LT in 1951, Forgan was well regarded in college and quickly became a highly decorated pilot and leader in the Air Force. After joining active duty in 1956 and receiving his pilot's wings, Forgan served in Japan, Spain, Germany and the Netherlands, and was in charge of most all Air Force operations during the Cold War. He also flew 100 missions in North Vietnam.
"At the time of his retirement, [Forgan] had something like 4,000 hours in a jet, which is unbelievable," Bialobok said.
Indeed, Forgan retired after 33 years of outstanding service in 1989, Bialobok said. During his career, Forgan earned a Silver Star for his combat accomplishments in Vietnam, four Distinguished Flying Crosses, 18 Air Medals for extraordinary achievement while participating in aerial flights, and many other rewards.
Forgan was, of course, recognized as a highly decorated pilot at the induction ceremony at LT. Koenig was also glad to be able to attend the ceremony and receive her honors.
"I wish my husband had been there to receive the honors instead of me," Forgan said. "The weekend [was] a time to remember."
About the Writer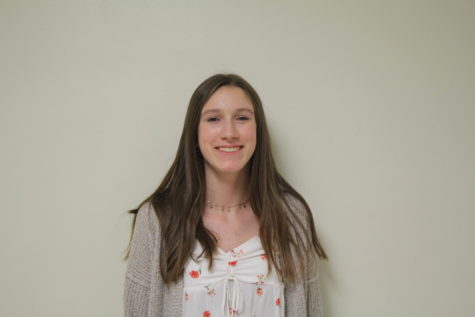 Lillie George, Reporter
The only reason I joined the Lion is so I could feel like Rory Gilmore.