LT teacher shares battle with cancer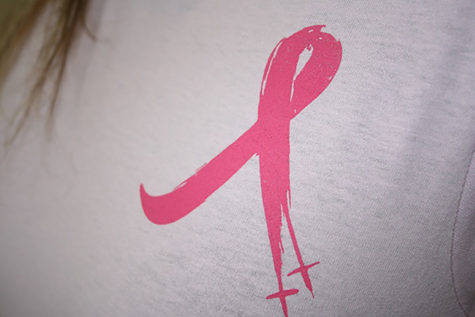 In honor of Breast Cancer Awareness Month and National Mammography Day (Oct. 18), LION has chosen to share the story of a family in the LT community that has been affected by breast cancer.
LT World History teacher Theresa Hirstein was diagnosed with stage two breast cancer in the winter of 2015, Hirstein said. After discovering a lump in her breast after a self exam, she made an appointment to get it examined.
"The doctor wanted to do a biopsy and an ultrasound that day," Hirstein said.
After her visit, she was able to sense the seriousness of the situation from her nurses, she said. In the summer of 2016, she began chemotherapy, right before she had to return to teaching in the fall.
"It became very hard to move through the day," she said. "I probably missed three or four days [of school] in a row by the end [of my therapy]."
The process of chemotherapy took a toll on her body and made it harder for her to participate in the activities she was used to doing.
"I could barely do dishes, laundry, or stand for extended periods of time," she said. "Any physical activity was exhausting. I just remember wanting to be out there shoveling snow, but there was no way I could help. [My family] had to step up and become independent; making their own lunches, doing extra chores, packing their backpacks for school, etc."
Going through chemo and radiation had an affect not only on Hirstein, but her family too. Her youngest son, Daniel Hirstein '20, was 11 when his mother was diagnosed, and as the youngest, the ordeal affected him differently than it did for his two older brothers.
"[It affected my eldest brother] because he had a better realization of what cancer can do [to someone]," Daniel said. "[Having a family member diagnosed] can make you aware how close cancer is to your life; it is in our everyday lives. I was aware of cancer, but I never had someone in my family have it, [let alone] my mom. It made me understand how cancer could really affect someone's life."
It was hard for her to find the right amount of information to share with her children about her illness, especially as she progressed through her treatment.
"As parents, you want to protect [your kids] from things," she said. " Most parents are pretty private, and may not want to share a lot with our children; but we had a family meeting acknowledging that there were a lot of unknowns, but we'd do whatever it takes to get through."
The transition from having a fully involved mother to an ill one who couldn't participate as much as she'd like to was different for the family.
"95 percent of the time she'd always cook meals for us, but when she went through chemo it got harder and harder, so we'd pitch in and cook our own meals and help with other chores," Daniel said.
Going through such a traumatic experience at a very young age can change your view of the world and the people in it. As a family, they found ways to cope and to make the stress more manageable.
"Uniting as a family made it easier," he said. "It was hard to see my mother go through that, but we stayed positive."
Furthermore, it can help you be more sympathetic to the unseen struggles that your peers could be facing. Even if they are not going through the exact same situation, you could better understand some of the pain and stress they may feel.
"It makes me more sensitive to others with family members going through cancer," Daniel said. "It makes you want to be nicer because you never know what's going on in others' lives. [Knowing the severity of the illness should] make you realize how lucky you are to not have someone in your family with cancer because there is always a family going through that."
What helped Hirstein and other patients have a better chance fighting the illness was the care they took of themselves before, during, and after diagnosis, she said. To all of those dealing with possible ailments or who know of someone who could be, there are ways to make it even a little bit less scary. The first step however, is to talk about it.
"Don't be scared to get the bad news, it's the first step on the path to treatment," Hirstein said. " If you have questions, ask; or get a second opinion. The sooner you catch [the illness], the better off your treatment can be because you're giving your body a fighting chance."