Parents express concerns regarding air conditioning at LT
After connecting through a Facebook post, roughly 15 parents attended a school board meeting on Sept. 16 to address concerns about the lack of air conditioning at LT.
"I think there's strength in numbers," father to future LT students, who wished to remain anonymous, said. "When more people are in there, it makes you more comfortable to be able to speak out."
Carrie Jenke, mom to a current LT freshman, represented the parents in her address to the school board. She touched on topics such as the heat's effect on a student's ability to learn, with the hopes that it would prompt the board to consider cooling at least the hottest areas of South Campus.
"I'd always heard that the classrooms were hot, but you do not entirely understand how bad it is until your daughter comes home sick, exhausted, and with horrible, consistent headaches because it's 90 degrees in her math classroom on a regular basis," Jenke said.
Her address drew an immediate response by school board president Thomas Cushing. Cushing had responded to a public statement two other times during his career as school board president, he said.
The Board has been discussing the issue of AC for the past eight years, Cushing said. They have also taken many steps to phase in more AC at both campuses, including the installation of a chiller tower at North Campus that enabled the cooling of a large section of the building.
"[The school board] started replacing the air handling units inside the classrooms because you can't just get air conditioning in a four week period during the summer time," superintendent Dr. Timothy Kilrea said. "It's something you have to really cycle in for, not only for cost but also for inside the facility."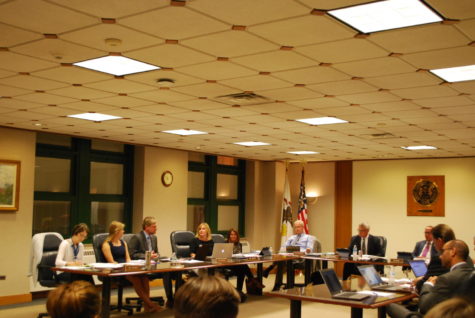 The Board is trying to gradually bring in in air conditioning in a financially responsible way, Cushing said. Architects estimate that it would cost $25 million to air condition both campuses.
Other expenses take priority over this large cost, such as new safety systems and new roofing at South Campus, Kilrea said.
Following the meeting, the parents expressed dissatisfaction and spoke of possibly attending future meetings to be a continued presence.
"I would like to ask the same people who say it's fine: 'How long would they tolerate the AC being out at their workplace?'" mother to future LT students, who wished to remain anonymous, said. "Or 'How long would they wait to call for service if the AC went out at their house?' They wouldn't. They wouldn't wait."