Seniors run business passed down by alum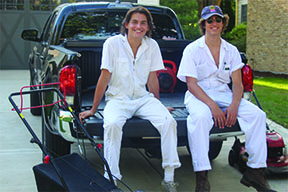 Jimmy DiLoreto '20 pulls up to a house in Western Springs and cuts the engine on his black Toyota Tacoma. The Lynyrd Skynyrd playing through the radio stops and Salvatore Mellili '20 climbs out of the passenger seat. Griffin Gresge '20 follows behind, pulling the two lawn mowers out of the bed of the truck. All three boys are decked out in crisp white jumpsuits.
"I had been mowing lawns on my own since around sixth grade," Mellili said. "Last spring was when I was offered to buy the company and the three of us went in on it together."
DiLoreto, Melilli, and Gresge are the owners of a landscaping service called American Lawn Pros. What makes the company unique is that it has been passed down through a number of LT alumni.
Nick Florek '12 started American Lawn Pros in 2006. It was then handed over to his younger brothers Jack and Max Florek '14. Tyler Byrne '18 bought it for $1.00 and owned it until 2019, DiLoreto said. 
"I got started with ALP in 2016 because my cousin worked for Nick," DiLoreto said. "It has grown so much since then."
Just in the past summer, the company has raked up around $7,000 in profit. They have 30 regular clients, eight employees, and a fleet of nine lawn mowers, they said.
"Although we aren't as established as other companies, people value the personal connection we have with our clients," Melilli said. "Even though the owners [of the company] haven't been the same throughout its history, American Lawn Pros still takes care of the original lawns it started with."
Another thing that sets American Lawn Pros aside from other services is their unique uniforms.
"We have very strong beliefs and tradition and we like doing it the right way. We believe our white coveralls embody that," DiLoreto said. "People will also ask us why we're wearing the uniforms and we've actually gained some clients that way."
Owning a company has come with responsibilities and has been a learning venture, the two agreed.
"Experience in owning a lawn service has taught us how to network, use technology to keep track of logistics— like making spreadsheets— and accounting of course," Melilli said.
Apart from gaining business experience, lawn-mowing provides a nice summer past-time, Melilli said.
"Mowing lawns can actually be quite relaxing and is basically meditation for us," DiLoreto said.
The landscaping season starts in April and can last until December.
"It was forty degrees out and I had to postpone family events on Christmas Eve to work," Gresge said.
In addition to lawn mowing, the company offers services such as leaf raking, shoveling and occasional weed removal.
"It's really cool when something you've created and worked for makes a profit," Diloreto said. "It's super rewarding."