Relay for Life Reboot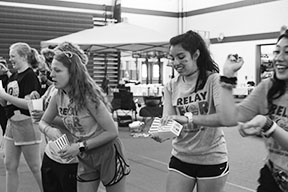 This past summer, Natalie Carlisle '21 took the initiative to reboot the dwindling Relay for Life after attending an event for the club. Relay for Life is an event run by the American Cancer Society that aims to honor cancer victims, survivors, and caretakers, as well as raise funds for cancer research. She remembered her middle school math teacher always mentioning how great the program was at LT, she said.
"We saw how small the event had gotten and we [thought] 'this should get way more attention than it does'," Carlisle said.
In 2019, former assistant principal Kris Costopoulos retired from Lyons Township and stepped down from her role as sponsor for the Relay for Life club. Costopoulos had been a part of the club since it started in 2005. When she left she hoped that the club would grow, as she saw a strong showing of sophomore students, Costopoulous said.
"I hoped their enthusiasm and energy [would continue] and would attract others," Costopoulos said.
LT special education teacher Brian Wolf has agreed to take over the role of club sponsor, as it was time for the club to grow with new ideas, Costopolous said.
"This year we're going to have more events and fundraisers, as well as inform students about how to get involved with our club," Carlisle said.
Last year, the club had a total of 14 members, but this year they are hoping to exceed that number. Carlisle is now a student co-leader of the club alongside Morgan Kearney '21, Sam Linares '21, and Kathleen Duffy '20. They are striving to become a more organized program than before by prioritizing reaching out to students.
Linares had little understanding of what Relay for Life was until Carlisle approached her and is now a student co-leader, she said.
"We all know someone who was affected by cancer and we owe it to them to give everything we can," Linares said.
To ensure that the club stays active, the student leaders are hoping to make themselves stand out against the numerous clubs at Lyons Township high school, Linares said.
Student involvement matters. Not only does student involvement make or break their club, but it can have such a positive impact on the lives of cancer survivors and their families, Carlisle said.
The club is planning on meeting in late September and early October. Relay for Life is also planning on selling T-shirts during Pink Week in early October.