LT student hikes Africa's tallest mountain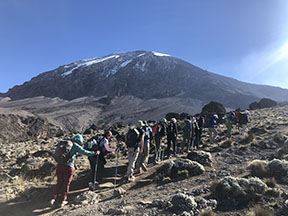 Hang on for a minute...we're trying to find some more stories you might like.
For seven days, Grace Morkin '20 woke up above the clouds. Through the youth travel organization Rustic Pathways, Morkin had the opportunity to hike not only a mountain, but Africa's tallest mountain and the world's tallest freestanding volcano, Mount Kilimanjaro.
"One of the most memorable things were the clouds rising," Morkin said. "We had to get an early start on the day and go as fast as we could without pushing ourselves too much because the clouds would catch up to us."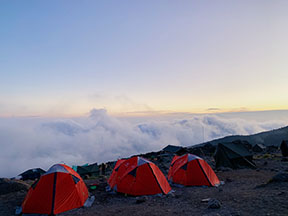 Morkin and the group began their trip on June 24 at an elevation of 3,000 feet in the town of Moshi, Tanzania, with only a pack of water, snacks, and additional layers, Morkin said. Local Africans called porters carried the group's overnight packs, tents, and food.
"I think [Grace] helped the group get comfortable immersing ourselves in the Tanzanian culture by always being comfortable putting herself out with the locals," Adam Boesky, another high school hiker from New York, said.
Although they had assistance from the porters and three guides, no one could control the dangerous circumstances throughout the hike.
The group had to walk through an area known as the red zone- an area that, because of its high elevation, can potentially cause hallucinations or death if people are in the zone for over 10 minutes.
"We were in the red zone for five to eight minutes," Morkin said. "You just start going crazy and it's super hard to breathe."
Altitude sickness was an additional battle Morkin faced. The leaders were worried Morkin would not be able to summit due to her sickness, but she pushed through it, Morkin said.
"Because I got bad altitude sickness and a virus, I learned even in the toughest times you can push yourself harder especially with a good support system," she said. "When everyone's in the same boat everyone wanted everyone to peak the mountain."
Because of all the potential risk, the mountain motto is "Pole Pole" meaning "slow or slowly" in Swahili, Morkin said.
"All the guides and porters would say [the motto] meaning don't push ourselves too hard because everyone can climb the mountain; it's just a matter of how fast," Morkin said. "My leader, Megan, kept saying timing is everything."
On day five, the group began hiking at 12 a.m. and reached Stella's Point-the summit of the mountain with an elevation of 19,300 feet-at 8 a.m.
"I was super proud of myself when I made it to Stella," Morkin said. "I started sobbing when I made it to Uhuru (the summit of the summit) because it was crazy. It was the first mountain I've ever climbed and everyone else had prior experience."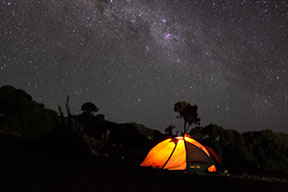 Boesky was impressed by Morkin's attitude throughout the intense climb to the summit.
"Because it was her first time doing a significant hike, I think she did a lot of adjusting on the first day or two," Boesky said. "Regardless, she kept an impressively positive attitude and was admirably tough throughout the whole climb."
That night, the group was able to see both the sunset and the moonrise, Morkin said.
"It was surreal to see both those things happen in one night," she said.
About the Writer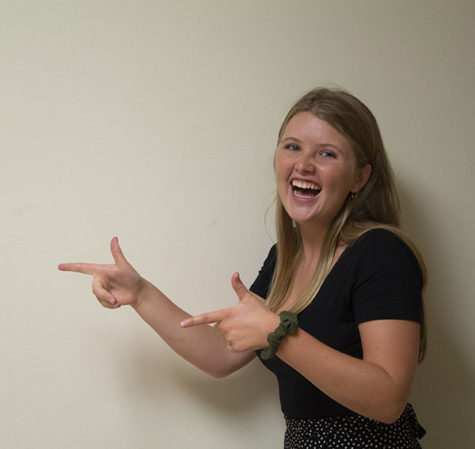 Anna McCormick, News Co-Editor
To the left is my bestie Dani! She is athletic, smart, pretty, and determined to do her best. She also has a nut allergy.