LT student becomes CNA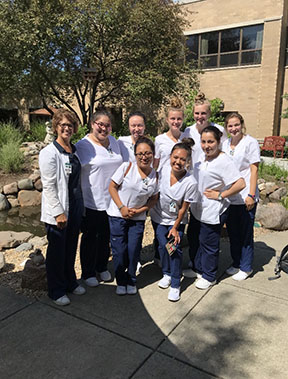 Hang on for a minute...we're trying to find some more stories you might like.
Ever since Julia Zylstra '20 saw the way the nurses interacted with her grandparents in the hospital, she wanted to be a nurse. To get a head start, she became a certified nursing assistant over the summer through College of DuPage. 
"It's a way I saw I could give back to the community, but also get a kickstart on my future career, which hopefully is [becoming] a nurse," Zylstra said. "It gave me a lot of good experience and made me more confident in myself."
For eight weeks, Zylstra spent two days in class per week, and once a week for six weeks, she participated in an eight hour clinical to get hands-on practice, Zylstra said. 
"It's a big commitment, but it's a great entry level position for someone who wants to investigate whether they are interested in any of the allied health professions," instructor Rosemary Fugazzotto said. "It also gives great experience of how to deal with patients with all different diagnoses."  
The clinical was held at the nursing home Tabor Hills in Naperville, Zylstra said. She helped the residents with daily tasks such as eating, dressing and doing their exercises. 
"It was really tiring and exhausting, but it also reiterated my passion and told me that nursing is what I want to do," Zylstra said. "We constantly helped people and I feel that has prepared us for both nursing school and working as a CNA."
During the class, she was introduced to the healthcare field, Fugazzotto said. They learned about insurance, normal versus abnormal aging and hands-on care. Since there are many different types of dementia, they also had 12 hours of dementia training. 
It's a way I saw I could give back to the community"

-Julia Zylstra
"Many of the people I assisted during clinical had mild to severe Alzheimer's and could not remember past memories," Zylstra said. Their photos, paintings, valuables and room decor helped my class get a glimpse into the people we were helping."
After completing the course, Zylstra received a certificate that never expires, Fugazzotto
 said. She can use it for jobs or to fulfill a prerequisite for a medical program. 
"She was very eager and open to learn and participate," Fugazzotto said. "She had a lot of energy and a positive attitude about everything."
CNAs are not able to give medicine like a nurse, but can assist the nurses and interact with the patients, Zylstra said. 
"Going into it, we were helping complete strangers and that was uncomfortable at the beginning, but the attitude from the residents inspired me and showed me that no matter your circumstance, the way you go about handling it is what will allow you to get through each day," Zylstra said. 
To complete the course, students have to be 16 years old, Fugazzotto said. Zylstra took it as an eight-week course, but it can also be taken as a 16-week course, depending on the school.
"I would definitely recommend it [over the summer],"  Zylstra said. "It was a lot of work, so juggling school and that class would probably not be advised."