AP Government now available
Ever since Civics became a required course for high school students in Illinois, the LT board of education has been looking to make this requirement work for each individual student. Before this, the board was discussing ways for students to take AP classes earlier on, so the idea of offering AP U.S. Government to sophomores seemed like a great way of providing both of these opportunities.
"We had a huge cliff – very few sophomores were taking AP classes while juniors were taking a bunch of APs," Principal Brian Waterman said. "The original thought was that if we introduced [these classes] at an earlier age, we'd give students some additional opportunities that would reduce [stress levels junior year]."
The class, originally only offered to juniors and seniors, has been opened up to sophomores and will count towards their civics credit, global studies division chair Paul Houston said. There are 126 sophomores enrolled in AP U.S. Government this year, making up five different sections.
LT students have expressed their interest in the course. In fact, many juniors say they would have taken AP Government during their sophomore year if they had the option to do so.
"[AP Government] will definitely be beneficial to students like me who want to go more in depth into this topic," Alex Henningfield '22 said. "Personally, I chose this class because I heard from my brother that Civics isn't worth the time. [Also], I like the challenge and the [idea of getting] AP credit."
On the contrary, a significantly smaller number of students are taking the alternative global studies AP class offered to sophomores, AP European History. In fact, there are only 16 sophomores total enrolled in the course this year.
"Taking this specific, in-depth examination of how the government works [in AP Government] might even lead students to know they have an interest in [something government related] as a major or career," Houston said. "Then they could also take courses during their junior and senior years that prepare them for that."
LT teacher Jessica Lee will be teaching the first sophomore sections of half-year-long class beginning second semester.
"Students will now be exposed to different aspects of political participation starting from a young age," Lee said. "They will now have the skills to study and observe our political system before they are able to vote in 2022."
The school board and staff are optimistic about this new option and look forward to seeing how things go this year.
"We're happy that our students have the opportunity to access AP Government at the sophomore level," Waterman said. "It will be interesting to see the reactions of students after they have completed the course."
About the Writer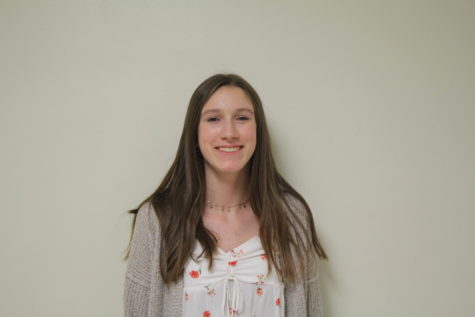 Lillie George, Reporter
The only reason I joined the Lion is so I could feel like Rory Gilmore.