People of LT: Issue 7
Hang on for a minute...we're trying to find some more stories you might like.
Autumn Mines-Griffith '19
"My passion outside of school is baking! I have always had an interest in creating new things and also taking current things and adding my own touch on them. I have been baking for two years and I am currently enrolled in the TCD Professional and Baking program. I am able to learn new techniques and strategies here that will help me in the future. Baking has always been a passion of mine and I look forward to making my dreams of owning by own bakery come true in the future."
Chris Vasti '20
"I started out with one bag of Jolly Ranchers and then that wasn't making enough people happy so I started getting more and more. I started getting huge bags and I just started giving them out to mostly people I know, but also some people I didn't know to try and meet new people and just to make their days. A lot of the reasoning behind this comes from my time with Snowball. We learn about the Snowball effect which is that a little thing can go a long way. I see it as if I give someone a Jolly Rancher and it brightens their day and makes them smile, then maybe they will be more inclined to make someone else smile that day. A lot of times I hear kids say 'Oh I forgot it was Friday' which kind of shows me how long these weeks get. People's faces just really light up when they realize it's Friday."
Danny Roemer '21
"I value my family and friends the most in this world because without them, everything else is boring. They have helped me figure out what really matters in life. They help me out so much daily, especially my mom who still makes my lunch as well as all my other meals for me everyday. One memory I have is when I was sick in the summer my sister took me to get food to make me feel better. They always look out for me, even when we fight."
Caroline Kemnitz '22
"Volleyball is something that I always thought seemed fun and a lot of my friends were doing it. It's a really fun sport and a great way to meet new people. Through volleyball I have met many close friends and learned skills such as discipline that I can use for the rest of my life. Volleyball has also given me leadership skills and the ability to work well with a lot of people."

About the Writer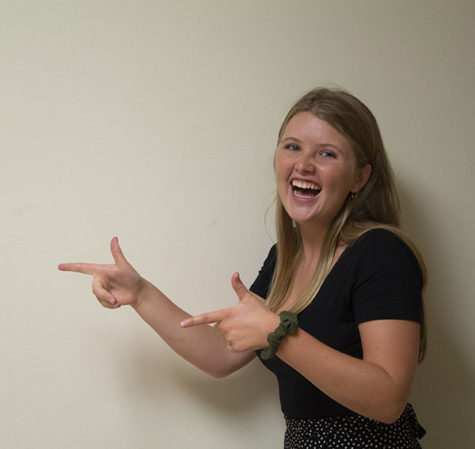 Anna McCormick, News Co-Editor
To the left is my bestie Dani! She is athletic, smart, pretty, and determined to do her best. She also has a nut allergy.