Assistant Principal retires
Hang on for a minute...we're trying to find some more stories you might like.
Nestled in the corner of the NC Assistant Principal's office, a small room sits neatly organized and inviting. In the center of the room, behind the paper-filled desk, sits Kris Costopoulos, who reflects on her 20 years at LT as they draw to a close.
"Though [the students] constantly move on and don't think twice about us, we'll miss them, the people," Costopoulos said. "And every day being a surprise. You walk in and you never know what the day is going to bring. It makes the days go fast. [LT's] been a family for me. And I will miss that."
While she is currently the Assistant Principal for the Class of 2019, she started in 1999 as the Student Activities Director, a job that she considers the best job that she's ever had.
"I was thinking something less physical would be better for me," Costopoulos said. "What I didn't realize was that I was trading the physical nature of that job with the emotional nature of this job. You find out a lot of things and sometimes the baggage that kids have, and that's a lot harder to leave at the door at the end of the day."
Even as Assistant Principal, Costopoulos found the time to get students involved in service opportunities and impact their high school experience more positively.
"We always manage to make work fun," Jack Riordan '19 said. "She got me involved with Relay for Life and cancer awareness, and that was a cool opportunity. I got to do KOH (King of Hearts) because of that. She made me and my brothers feel like we belonged and were making an impact. We always manage to make work fun."
Costopoulos considers the creation of the All-school Assembly in 2001 her greatest achievement, she said. While it did not happen during her first year at LT, she accomplished the goal during her second year. Now, the event is a tradition for the school, that Costopoulos hopes lasts for years to come.
"LT never closes for snow days, but the day before the first All-school Assembly, LT was closed, and that was the day we were going to rehearse," Costopoulos said. "And that's when I learned that you have to put in a work order to get all the snow removed, because all the SC kids were getting off the bus into three foot snow drifts that hadn't been plowed. So that was a note-to-self for next year."
Throughout her time at LT, Costopoulos has seen the school evolve in several ways-from the number of class periods to the way teachers communicate with their students, she said. When she started, there were seven class periods in a day, which turned into 10 periods, which eventually became the current eight period schedule. While she laments the decrease in school spirit over the years, groups like the LT Weirdos give her hope that students will once again stand for the school song.
"She is probably the person who makes people feel most welcome anywhere," Principal Brian Waterman said. "Certainly she was instrumental my first year with just tips, tricks, advice and acclimating to the LT culture, because that's who she is and what she is about."
Costopoulos' time at LT has also been marked by struggle: a battle with cancer. She was diagnosed with cancer a few times since being at LT, and she has endured to continue doing the job that she cares so much about, she said. The first time was the only time when Costopoulos had to go through chemotherapy, but since has had to endure surgery several times to get rid of her cancer.
"The kids, the staff were incredible in helping me through that," she said. "I was bald before bald was beautiful, and everyone was so supportive."
Next fall, Costopoulos will visit Ireland and travel with friends, she said. After a previous trip to Ireland, Costopoulos fell in love with the country and she looks forward to traveling in the fall.
"Because of her personality, because of her connections with staff and students, because of the way that she makes people feel, her compassion, her empathy–I think there is so much to be learned from how she interacts with people," Waterman said.
About the Writer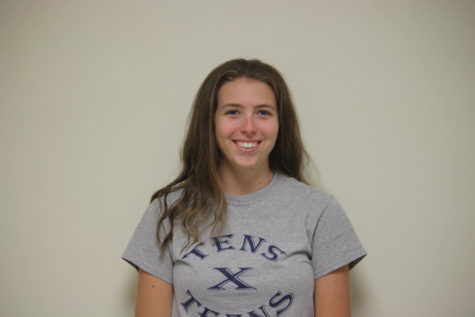 Taylor Schmitt, Website/Social Media co-editor
I'm a Co-Web/Social Media editor for the LION! When I'm not posting on the website, you can usually find me in the Reber Center acting or searching...