Congressman visits the new Investment Club
Congressman Dan Lipinski talks to students about politics, finances and the economy
Lars Lonnroth, Managing editor of Breaking News and Multimedia Content
April 24, 2019
Despite being less than a year old, LT's new Investment Club recently received a high-profile visitor at an after-school meeting in SC room C210.
On April 18, United States Congressman Dan Lipinski (D-Western Springs) spoke to members of the LT Investment Club about the many financial issues facing students, such as dealing with the increasing cost of college and preparing for retirement with the future of Social Security in limbo, both issues that the Investment Club seeks to emphasize.
"Getting these kids to be thinking about investing at a young age, I really don't think you can argue against that," co-sponsor Ryan Gerenstein said. "You're teaching somebody the value of investing from the age of 18 so that when they are 65 they have a couple million dollar portfolio. I think that's important."
During his visit, Lipinski—who noted he was in a very similar club when he was in high school—said that the participation in an Investment Club does not only help teach students about being smart with their money, but also helps students learn the basics of understanding current events and making informed decisions.
"You learn a lot about different businesses. Not just about financial literacy, but what's going on in the world. What's going on in the country, trying to get a sense of that," Lipinski said. "You learn about a lot of different things besides the stock market."
Prior to his visit, Investment Club co-sponsor Julie Bryar-Smith invited Lipinski to come and visit the club and speak about his work in Congress and his own experience with making financial decisions.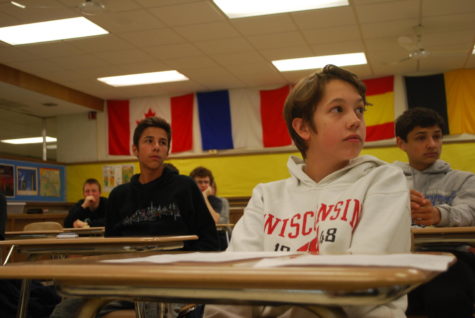 "I thought, since we only have three meetings left, I would reach out to Congressman Lipinski's office and see if he could come and hear about our club and share some of his background and his work in congress," Bryar-Smith said.
On top of that, Lipinski's visit was partly influenced by the Investment Club's participation in the Capitol Hill Challenge, a competition where investment clubs across the country represent their local members of Congress by building an investment portfolio that then competes with other funds nationwide, Gerenstein said.
Additionally—as part of the Capitol Hill challenge—if the club's fund places in the top 10 nationwide, the club would get the opportunity to travel to Washington, D.C., to present their portfolio in the Capital, he said.  
"It's kind of a way to link up the schools and their congressmen, on top of all the analysis of stocks and all the things students are doing in the club," Gerenstein said.
Lipinski is not the first person to come and speak to the Investment Club, Gerenstein said. In the past, the club has had speakers from the financial industry talk about what they do in their profession, which helps give students a better idea of what jobs are available in the finance industry.
"We are really grateful that professionals from all different walks of life are willing to share their time with our students," Bryar-Smith said. "That's how our students learn, that's how they see their futures, and they can also hear things about investing based on the experiences of these other people."
Even though Lipinski is not directly involved in the finance industry, Global Studies Division chair Paul Houston said that the work that people like Lipinski do in Washington have direct impacts on the economy. This makes understanding what is happening in the Capital incredibly important when making financial investments.
Case in point: many members of the Investment Club had invested in airplane manufacturer Boeing as part of their virtual portfolio. But in the wake of two Boeing aircrafts crashing due to faulty engineering, Boeing stocks have taken a hit. This has impacted many of students' funds, club members lamented.
As a member of the House Transportation Committee, Lipinski and his colleagues have had to look into how to better regulate the airplane manufacturing industry, which impacts the Investment Club's virtual portfolio.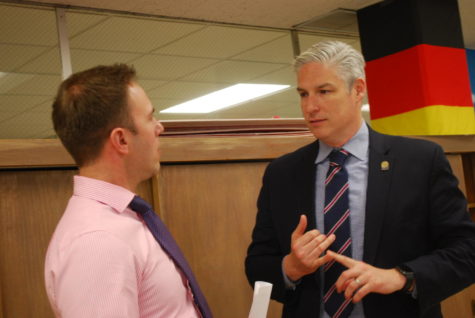 "Students need to understand economics and investments are affected by policy and policy is set at the local, state and federal level," Houston said. "To have our United States Congressman Dan Lipinski [visit] gives our kids the opportunity to ask about what's going on, what are you voting for, what are you working toward, and what should we as investors be mindful of?"
Striking a similar tone, LT Principal Brian Waterman noted that the visit helps to demonstrate how policies in Washington can impact local communities.
"He's involved in conversations at a national level where, in some cases, they are creating large-scale policies that impact local areas," Waterman said. "For our students to have the ability to learn about that is pretty powerful.
During his visit, Lipinski listened to a presentation about the club's virtual portfolio and many of the things that the club does outside of the investment game. The club members had the opportunity to ask the congressman any questions they may have.