Student prevails in state culinary competition
Hang on for a minute...we're trying to find some more stories you might like.
Before his senior year, Jason Fung '19 never considered a career in the culinary arts. However, just a few months away from graduation he has had several job offers and the possibility of a full ride to the Culinary Institute of America (CIA) on the line.
This was all possible due to Fung's enrollment in the Professional Cooking, Baking & Service program at Technology Center of DuPage, a career elective at LT and other area high schools for juniors and seniors.
Through TCD's competitive cooking team, Fung and his teammates entered into the 18th Annual Illinois Prostart Invitational on Feb. 24 at McCormick Place in Chicago where they took first place. Now, they are moving on to the national competition in Washington D.C. from May 8 to May 10.
His teammates include two students from Wheaton North, one from Lake Park and another from Glenbard West.
"When our team won state, I was elated," teammate John Varcho said. "I felt very accomplished and privileged to be a part of something that awesome even if I was there only for moral support but it was an amazing experience not only to be at the competition but to be a part of the winning team."
The competition consisted of 20 minutes of preparation time and 60 minutes to prepare a three course meal. The dishes prepared were shrimp tostadas, adobo seasoned chicken breast, coconut crusted torrijas with a prickly pear sorbet.
There was no access to electricity or running water, so the team had to make their sorbet with a hand crank blender and dry ice. The dishes were evaluated on taste, skill, teamwork, safety and sanitation
"It's a lot of teamwork," Fung said. "In competition, you somehow need to make everything work while finding this balance because you only have an hour to do it but you are trying to put out a dish that some of these high up chefs would want to serve in their own restaurants. Finding that balance within a team is difficult."
It was the individual team's responsibility to provide all ingredients needed to prepare their dishes. This is the aspect where Fung's team faced some challenges. Their tortillas and brioche buns had been eaten by an animal that had gotten into their ingredient bin. They were provided with new tortillas and pretzel buns to replace the brioche.
The head floor judge noticed their ability to work through the problems presented and offered all members of the team jobs in his kitchen, Fung said.
Fung's role is to prepare the appetizer, which requires a lot of cutting and concentration on plating.
"Jason is a bit eccentric at times, constantly late to practice, and likes to eat all the pork rinds," Varcho said. "He is an excellent person and I honestly couldn't think of anyone better person to fulfill his role on the team, he is truly a talented individual and I'm glad to have gotten a chance to know him."
In Washington D.C, the team will compete against other state champions for a full ride to CIA.
"It is a little bit different because going into state is not too stressful because it is just a bunch of other high schools," Fung said. "We were one of the only technical centers. Once we go to nationals it's not just other high schools. Every single one of these have won their own state's competition."
They are preparing, the same way they did for the state level competition, by practicing on Tuesdays and Wednesdays.
On Tuesdays, they prepare the ingredients and talk about their roles. They also go over improvements that need to be made to the dishes.
There are a few changes to the menu before nationals. For state, they could only use chicken or pork tenderloin due to the lack of funding some schools had. For nationals, they are switching out the chicken with a higher grade pork.
"We know that what we did for state there is no way it can win nationals," Fung said.
On Wednesdays, the team runs through a mock competition, where they prepare the entire meal in the given amount of time. This allows them to troubleshoot mistakes and improve them before the competition.
"Being a part of Prostart has given me a way to better learn how to apply our knowledge gained from class in a more real environment and gain experience from those experiences," Varche said. "This team has helped me a lot in terms of knowledge, experience, and friendship as corny as it sounds. I've made many great memories from being on this team and I can't say I'm looking forward to the end."
About the Writer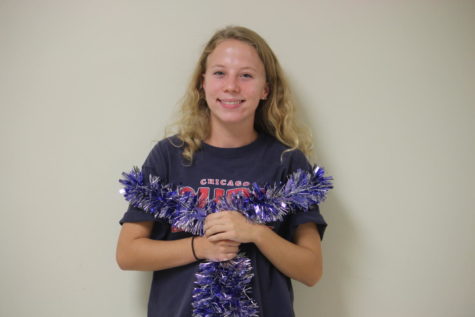 Mary Okkema, News co-editor
I think I know more about planet earth than you do GENIUS!

Twitter: @MaryOkkema