People of LT: Issue 6
Hang on for a minute...we're trying to find some more stories you might like.
Ben Hammond '19
"Chief Keef is my inspiration because he talks a lot about the things that I am into. When he says in his song 'gang gang' it reveals to me how important strong relationships are. Other lyrics like 'I been ballin' so damn hard I swear I think that I am Kobe' hit the heart because they make me realize that people as influential as Chief Keef also have inspirations and people they look up to. The last and most influential lyrics I heard this guy spit were 'I'm with the stop the violence campaign, that's why I paintball now.' These lyrics in particular are very special to me because when I get stressed out or angry I focus on other ways to calm down instead of toxic ways like hitting something. Chief Keef in his way stopped shooting guns and instead starting shooting paintball guns. Although very extreme, when I break these lyrics down it related more to taking homework one step at a time. This artist in particular has kept my contact with great friends throughout high school, calmed me down in stressful situation therefore inspiring me to further a college lifestyle."
Savina Lopez '20
"After high school, I'm probably going to be a police officer. I want to be a police officer because of the unfair treatment that has gone around towards people, and I sometimes feel like cops don't use their power that's given to them properly. I want to make a difference as a female cop. I want to end police brutality and bring actual cases to justice because sometimes it's not fair. The world is not going to be fair but you mine as well make a difference."
Maddie Ohm '21
"Cross country has definitely had the most impact on me so far at LT because the team dynamic is unlike anything I have ever experienced before. I would have to attribute my motivation in running to my teammates because they hold me accountable. Being surrounded by people who share your same passion is inspiring. Honestly, quitting cross country has never really crossed my mind. I could never imagine not going to practice everyday or not spending time with my teammates who are now my best friends. However, I have definitely doubted myself especially coming off tough races. In those situations, I try to take them as a learning experience and I know the team will be there no matter what the outcome."
Will Carroll '22
"I value basketball the most. I have been doing it since I was 5. I value it because it's fun and I can do it with my friends. My teammates motivate me and push me to do better because I don't want to let them down. I love playing basketball because it helps me clear my head and always makes my day better. Also, I can do it any time I want."
About the Writer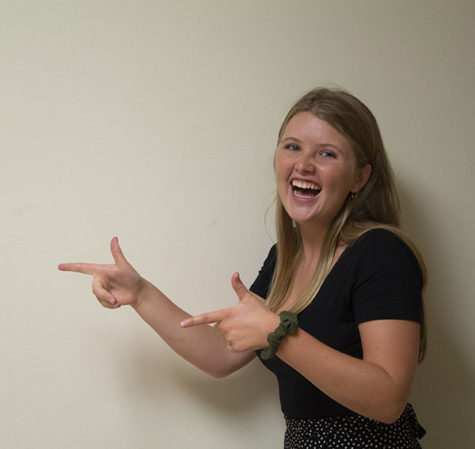 Anna McCormick, News Co-Editor
To the left is my bestie Dani! She is athletic, smart, pretty, and determined to do her best. She also has a nut allergy.