David Kopp '20 recognized by Chicago Blackhawks Hockey team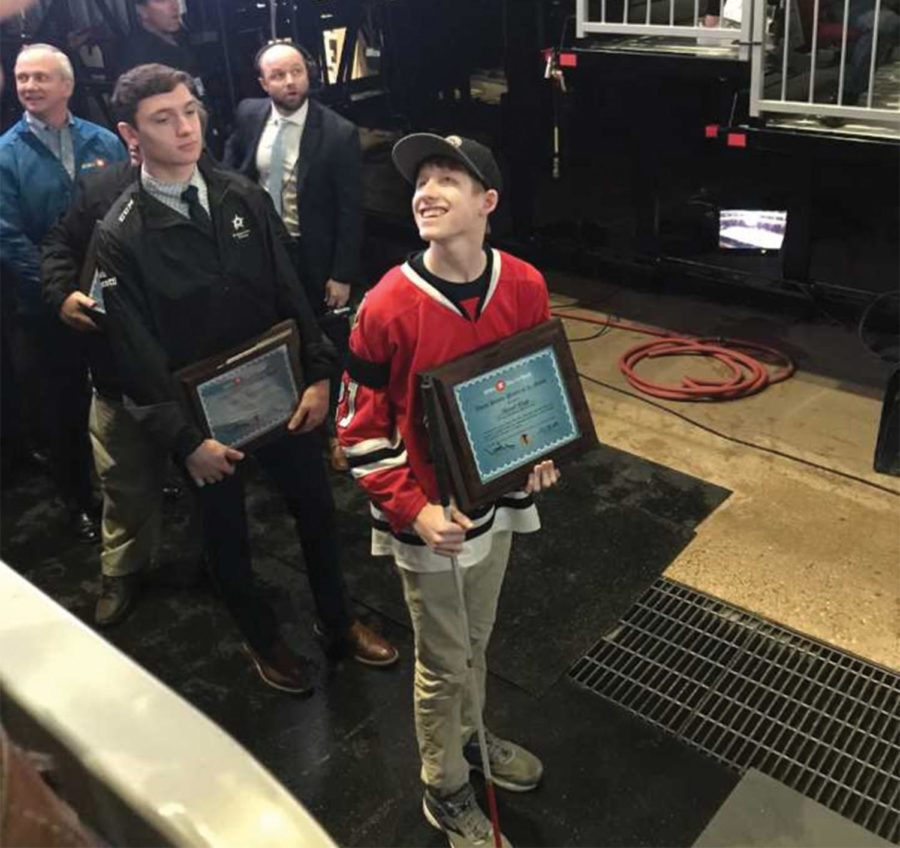 As the Chicago Blackhawks players were preparing to take the ice on Feb. 22 to play the Colorado Avalanche, David Kopp '20 entered the United Center Ice Rink and was presented with the Chicago Blackhawks Youth Player of the Month Award.
"It was a real honor," Kopp said. "It was really cool to go out on the ice at the United Center and be honored in front of all those people and receive the plaque."
This award is given out to youth hockey players in the area who have greatly impacted the hockey community. Kopp was nominated for this award by his paraeducator Meg Keeve. Keeve had the opportunity to watch him play with his Chicago Blackhawks Blind Hockey Team several times and knew he was a great contender for the award.
"David is a competitor, which is one of the reasons why I nominated him," Keeve said. "Of all the kids I've known at LT, he was just so deserving of this. All you need to do is talk to David to know he is very deserving of this award. He knows what he wants and he doesn't do anything 99 percent. He always goes 100 percent."
In addition to receiving the plaque, David was invited back to the United Center on March 21 with the other Youth Player of the Month award winners, as well as Volunteer and Coach of the Month winners, to tour the locker rooms and watch the players skate on the ice.
"The locker room was really cool," Kopp said. "[Touring the room] is something that you want to do, but don't think you're ever going to get to do it."
Kopp has been playing hockey for about three and a half years when the Chicago Blackhawks Blind Hockey team first started. He has always had a love for hockey and sports in general, but as a visually impaired athlete, he faces some challenges.
Kopp was born without his irises, a condition known as aniridia. His eyes are always dilated; he cannot control how much light goes in and out his eyes. Kopp's acuity is 20/800. He also has glaucoma, which is a condition that results from increased pressure in the eyes.
"It's made me stronger as a person," Kopp said. "I always try and keep a positive outlook on things. You have to struggle with something in order to grow sometimes. I'm going to get through it and I know that I can do it."
The Chicago Blackhawks Blind Hockey team was created with the goal of allowing those with visual impairments the opportunity to play hockey, Kopp said. The hockey puck is made out of metal and twice as big as standard size, allowing for the athletes to sight it easier. Inside the puck is balbarings, so the players are able to identify its location by listening.
"In blind hockey, you do have to communicate," Kopp said. "We're always yelling to each other where the puck is and where each other are."
In addition to the differences in the hockey puck, the goal is shorter to discourage lifting the puck, a minimum of one pass is required after crossing into the offensive zone, and all goalies must be totally blind to ensure even teams.
Teams are also regulated to create an equal playing field by grouping the visually impaired players into classes based on levels of impairment. B1 players are either completely blind or have very little vision. B2 is a moderate level of vision – which is were Kopp falls – and B3 players have the most vision. Only a certain number of players from each class are allowed on the ice at once.
Kopp's team practices once every weekend at Center Ice in Glen Ellyn. The team also participates in two annual tournaments. In October, there is the blind hockey summit, and in March there is the Blind Hockey Festival in which all the disciplines of disabled hockey get together for individual tournaments.
"I really think it's been great to meet other people in the visually impaired community," Kopp said. "I've been able to make friends and it's really fun to go out there and play with them. [The games are] exhilarating really; I love playing [hockey]. We don't get the opportunity to play games very often, so when we do get to, it's something really special."
About the Writer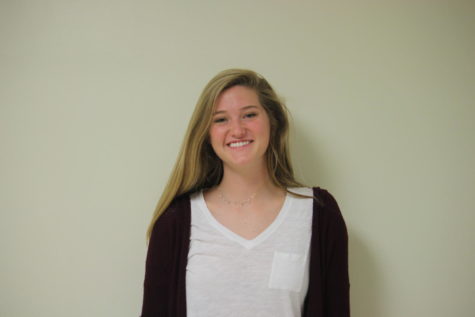 Harper Hill, News co-editor
My name's Harper Hill, and I am the News Editor for the LION Newspaper. In case you were wondering, I am the world's biggest fan of Dirty and the Dishes...