Photographer graduates early, travel world to expand his craft
As Kyle Niego '19 started his senior year, he had one goal: to finish school a semester early. By taking an extra gym class first semester, and having all other necessary credits completed, Niego was able to graduate in December. He aspires to be an entrepreneur, Niego said.
"I knew junior year that I wanted to graduate early," Niego said. "I was able to leave after sixth period [first semester, senior year], and still have the credits to graduate early."
After leaving LT, Neigo had the opportunity to travel abroad for two weeks. He traveled to Paris, and was able to backpack across Switzerland alone. While in Europe, Niego pursued his freelancing photography career.
"By completing a backpacking trip solo, Kyle was able to achieve a much greater worldly perspective than before," Niego's mother, Cassie Niego said. "Kyle spent a great deal of time on his trip networking with others from all over the world and came across many new ideas, concepts and understandings."
Art teacher Jamie Rey was able to watch Niego become the driven person he is today, she said.
"Kyle is an adventurist and has a creative drive to capture life from any unique viewpoint," Rey said. "I foresee Kyle will continue his artistic passion. He documents the lives of many people and creates colorful landscapes and cityscapes through his worldly journeys, producing exquisite photographs that showcase his artistic talents."
Niego has been accepted to Savannah College of Art and Design, but has yet to make a decision of whether he wants to attend in the fall, he said.
"Being out of school has been a blessing," Niego said. "There are benefits of not going to college. I'm able to work on my craft during the day, which is easier than school."
Along with photography, Niego and friend Kyle Reblin '19 have started their own clothing line called "Feel The Wave." With his free schedule, Niego has been able to focus on growing his career, he said.
"My goal is to be self-employed," Niego said. "I'm not sure what I'll be doing, but I have time to figure it out."
Since graduation, Niego has been concentrating on getting the most out of every day.
"[Kyle] has been working very hard putting in endless hours into his work," his mom said. "Just the other day he commented on how refreshing it is to have this opportunity and that he has already been able to accomplish so much in this short period of time that wouldn't have been possible if he was still in high school."
About the Writer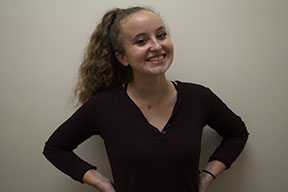 Isabella Sorice, Social Media/Photo Editor
"I don't have time to write a staff bio"