Board: Special Education Teacher honored with Vita Plena Award
LT Board of Education meets Feb. 19th to honor teachers, musicians, approve contracts.
Lars Lonnroth, Managing Editor of Breaking News and Multimedia Content
February 19, 2019
At the Board of Education Meeting Feb. 19, Neil Goldman was honored by the D204 Board of Education for his work in the Special Education department. He received the Vita Plena Award—LT's motto, meaning "The quest for the fulfilling life"—which honors a member of the LT faculty.
"I really appreciate the ability to come here everyday and I'm very proud to do work that matters," Goldman said to the LT teachers and community members present at the meeting. "The extra little bonus is that I get to do that work while working with all of you."
Superintendent Dr. Timothy Kilrea praised the work Goldman does.
"He is approachable. He has common sense,"  Kilrea said. "That maturity is really important… to mentor new teachers. He means a lot to us."
Goldman works in the special education department and moved to education after working in a cubical in the private sector, Kilrea said. That switch, Goldman said, is one he would gladly make again.
"I used to sit in that cubicle and write code. And now I help kids," Goldman said. "That's a lot better."
All State musicians recognized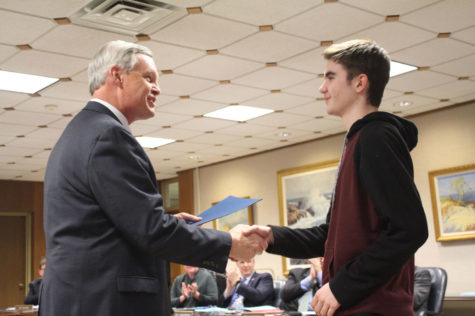 Members of various musical groups—ranging from chorus to band to orchestra—were honored for their success in the Illinois Music Education Association's All-state program at the Feb. 19 school board meeting.
"To reach where they are now, it is not just six months worth of hard work or a year worth of hard-work," Assistant Fine Arts Division Chair Mark Dahl said. "This is a journey that many of these kids started in third grade, fourth grade, fifth grade when they first start learning their instruments."
All-state musicians are the creme-de-la-creme of music programs across Illinois. This year, eight LT students were selected to be a part of the IMEA All-state musicians. Those eight came from the 48 LT students who were selected to be district IMEA musicians. LT's district is one of the largest in Illinois.
All eight all-state musicians were a part of the honors program.
Percussionist Hannah Hasenwinkel is one of the All-state musicians who was recognized that night and was pointed to by Dahl as a testament the journey it takes to become an All-state musician. She started taking lessons when she was around 7 years old.
"None of this could happened without their parent's support," Dr. Kilrea said. "Hannah was going to those [lessons] in 4th grade. She wasn't driving herself."
Dahl concluded his remarks by praising the students and the dedication they put into the work that they do.
"Please know, your music teachers are so very proud of you and all of the work you've done," Dahl said. "We couldn't imagine our programs without you."
The All-state musicians then were called to the front to receive recognition from the board and a certificate from Board President Tom Cushing.
In other news
As a result of the inclement weather that forced school to close this winter, April 22 and May 31st will become attendance days for students. April 22 was originally a teacher institute day. May 31 will become the last day of finals.
Members of the Applied Arts division assembled to highlight the work they are doing in a variety of classes. They spoke about aviation. Lil' Lyon Preschool. The new Unmanned aircraft classes—in essence drones. Along with Applied Arts clubs like Robotics club which has had quite a season.
The board approved some changes to the LT Student handbook.
The board approved a number of contracts.
Advantage Paving Solution received around $274,000 to install new pavement at the SC parking lot. This will likely result in significant impacts on parking availability for summer programs at LT's freshman sophomore campus. "This is going to be a choreography that is going to be interesting," Kilrea said. The board considered the possibility of moving some summer classes at SC to NC to reduce parking load. The contract will replace most of the SC parking lot while reinforcing pavement put under heavy stress by bus traffic. The contract was approved unanimously.
Oak Brook Mechanical Services received around $192,000 to install technology at the SC pool. The machinery will be installed during the weekend but will largely not impact pool availability. The contract was approved unanimously.
Manusos General Contracting Inc. received around $500,000 to do general remodeling in various areas at LT's campus. This almost $500,000 will be used for plumbing, replacing the deck at the transition house and work at the masonry wall at SC. The contract was approved unanimously.