Proposal for new condominiums to be built in place of antique mall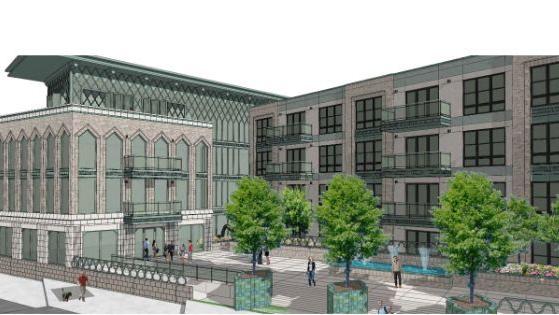 La Grange could be getting a new addition to its skyline in the replacement of an old facade. A proposal has been released for a condominium complex to be built on the site of the Jackson Square Mall at 112 E. Burlington Ave.
One concern that residents have is that the old Jackson Square Mall must be torn down. The building itself has been around since 1903, but was converted into the antique mall in 1998, building manager Justin Spencer said. Because of the age of the building, some people believe that it is historically significant to downtown La Grange.
"We have some people coming in saying it's a historic property and has been here forever but really they don't know the problems of the building," Spencer said. 'Because it's so old, we aren't up to code with a lot of safety regulations and to keep it up and retrofit it, it would probably cost more than the condo project."
Spencer does not believe that there is any historical significance to the building. However, it may not be the history, but rather the timeless appearance of the Jackson Square Mall that residents do not want to lose.
"My first concern is that we not get rid of something that is a building that contributes aesthetically to our town," longtime resident of La Grange Patti Ernst told the Chicago Tribune.
The businesses, along with the building, are another aspect of the discussion. If the proposal for the condos is approved, the owners will likely move the businesses to different locations.
"We have a definite place for the storage business, and a potential place where antique mall would go, which is a bit smaller," Spencer said. "The plan, as of now, would be to move to a building right in downtown La Grange."
The new condominiums will be five stories high and contain 50 dwellings. The first floor of the building will be home to a parking garage. Additionally, part of the development will include a new plaza along Burlington for use by the public.
Questions have also been raised by residents who are concerned about increased traffic and the size of the building set back, Director of LaGrange Community Development Charity Jones said. Neighboring property owners are worried about how far the building is from their property line.
Residents will have an opportunity to voice their opinions during the public hearing located at 53 S. LaGrange Rd., the LaGrange Village Hall. The meeting will commence on Feb. 12 at 7:30 pm.
"The condos as of now are just a proposal," Spencer said. "The main purpose is to have whatever options open to the owners."
At the meeting, the LaGrange Village Board will vote on the next steps for the project. The vote will decide if a change in zoning from commercial use only, to residential and commercial will be approved.