'Newsies' features student actors, premieres tonight
Hang on for a minute...we're trying to find some more stories you might like.
The production of "Newsies", which premieres tonight, Jan. 25 at 7 p.m. at The Community House in Hinsdale, tells the story of a young boy named Jack Kelly who will lead his coworkers in a strike against power-hungry newspaper owners of New York.
"This show is important because it is a true story of young kids working for something they believe in and not giving up," Director Don Smith said. "It's set in a time before cell phones were constantly in everyone's face. I think the community will find this show important too because it has a great message that even the little guys can inspire others if they are determined."
The show dates include Jan. 25-27 and the weekend of Feb. 1-3 as well. Friday and Saturday shows begin at 7 p.m. and Sunday shows begin at 2 p.m. Tickets range from $20-$25 depending on age.
Based on the 1992 Disney motion picture and inspired by a true story, the production focuses on the struggle between local street vendors of newspapers and powerful publishers who raise distribution prices at the newsboys' expense, Smith said.
The actors in this production range anywhere from third grade to seniors in high school, Smith said. With kids coming from LaGrange, Hinsdale, Clarendon Hills, Western Springs, Brookfield, Riverside, Downers Grove, and even as far as St. Charles, the cast amounts to over 100 people. The show is one of the largest that the Stage Door Fine Arts company has ever put on.
Auditions were held on Oct. 17, and rehearsals began a week after. The cast rehearsed twice a week, Fridays from 6 to 9 p.m. and on Sundays from 1 to 7 p.m., Nate Scriba '21, who plays the role of Davey, said.
"The cast has worked so hard to make the show what it is today," Scriba said. "Learning the dances was especially hard but we all, [particularly] the younger kids, have made great strides since the beginning of rehearsals and are helping make the show look great."
Due to the advanced choreography, the dances in the production come close to what the professionals would do as well, Smith said. The kids have worked tirelessly and everyone is proud of the show.
"This show has been a blast to work on because the music is amazing," Smith said. "Everyone has been working so hard and it has been awesome to watch the actors be challenged and rise to the demands of this intense show."

About the Writer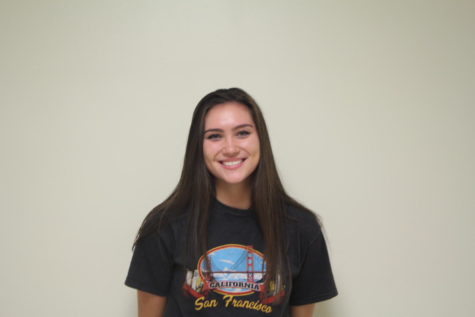 Maggie Kahn, Reporter
Yes, I have a twin sister that looks exactly like me, and no I can't feel it when you hit her.