Student organizes LEO club chapter
Hang on for a minute...we're trying to find some more stories you might like.
When Amanda Kural '19 reached out to her local chapter of Lions International about help with a drive for women's sanitary products, she didn't expect to be starting her own LEO club chapter with a large group of her friends. Lions International is a charity organization that connects people to complete service projects for other charities, such as the Ronald McDonald House and the Chicago Period Project.
"I think it's important because it fosters both the charitable side of people and people's leadership sides," Kural, president of the new chapter, said. "It's really cool to see [club members] not only complete these service projects that they really care about and are important to them to improve their community, but also become a leader within the club. It definitely is more independent and self-sufficient than a lot of other volunteering activities. Now that it's been founded, it's really cool to have created something that might outlive my time at LT and in La Grange."
The LEO club is a youth chapter of the worldwide charity organization, Kural said. The larger organization, Lions International, was founded in Chicago in 1917, making the organization 100 years old as of last year.
"My favorite part is seeing how this group of people really enjoys what we do," Kural said. "I think that no matter what we're doing the group is cohesive, everybody gets along and we just make a great time out of whatever project we're working on."
Currently, the club is working with the Chicago period project to raise and package sanitary products for homeless women again, as well as projects for BEDS Plus and the Ronald McDonald House, Kural said. In the past, they've worked with Feed My Starving Children, soup kitchens, and even hosted a dance for children with disabilities with the South East Association for Special Parks And Recreation (SEASPAR) in addition to various other projects.
The LEO club meets every Sunday at the Western Springs library, Kural said. Since it wasn't chartered through LT, the club is considered a community club and meets at separate locations in the community. Typically about 10 to 15 people attend the weekly meetings, but 20 to 30 people attend service opportunities.
"I would really recommend it to anybody who's interested in not only participating in community service, but being a leader," Kural said.
Kural began the process of creating the chapter last January, and it was officially chartered in March, Kural said. It took her about two months to complete the paperwork for the process and get more people involved, including Emily Henkel, vice president of the new chapter.
"The most important part is the work we're doing," Henkel said. "A lot of things are set up because people need to get hours for NHS and other clubs. But everyone in the LEO club really cares. The commitment of time they set aside shows that we care about the work we're doing."

About the Writer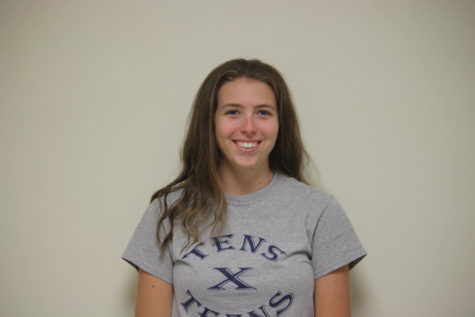 Taylor Schmitt, Website/Social Media co-editor
I'm a Co-Web/Social Media editor for the LION! When I'm not posting on the website, you can usually find me in the Reber Center acting or searching...