Josie Dunne '15 plays in Chicago
LT alumna Josie Dunne '15 performed in concert at Park West in Chicago on Nov. 19. The concert set many firsts for her musical career, including the fact that Park West is the largest Chicago venue where Dunne has performed to date, she said.
The show also featured a new band configuration and a set which was composed differently than usual, Dunne said.
"I worked with my music director to make it super fun and super me," Dunne said before the opening performance before one given by John Splithoff, another Chicago-area native.
Park West is a unique venue, featuring a dance floor in front of the stage as well as tables and chairs for all general admission guests. Many of the show's audience members were current and former LT students and parents, and Dunne went out of her way to thank her family and everyone in the audience who "feels like a Dunne," reminiscing fondly on her childhood influences, whether they were musical artists or audience members.
The set Dunne performed featured several old and new original songs including "Cool With It," "Good Boys," "School for That," "Make You Mine," "Old School," "Sunday Morning" and "Go Home." Her highly energetic performance also included covers of songs such as "Better Now" and "I Will Survive." Dunne hoped that the songs would encourage audience members to sing along and dance. The covers most definitely had their desired effect.
Among Dunne's recent work is a re-release of "Sunday Morning" with the DJ Matoma, who sent out a tweet on Nov. 13: "So thrilled that @AppleMusic added 'Sunday Morning' feat. @JosieDunneMusic to the top of their amazing A-List: Dance playlist this week!"
Dunne also released the seasonal song "Cold in December" on Nov. 16.
"I love holiday music," Dunne said. "I'm so glad to have created this song that really goes along with that interest."
Both before and during the concert, Dunne talked about how much she loves being home and playing hometown shows.
"Just being in Chicago is so much fun for me," Dunne said prior to the Nov. 19 appearance, in which she even performed on the trumpet in the song "Make You Mine." "People know the words and are really open to singing, dancing, and clapping. I'm excited to be in front of that hometown crowd that has a really unique energy."
Overall, the performance and Dunne's musical talent, entertaining ability, and easygoing personable nature were well-received by the audience. Dunne made herself available for autographs following the show.
"It's kind of weird, because to me, she's still my sister, but a lot of people know her," Josie's younger brother Beecher Dunne '19 said, reflecting on the takeoff of his sister's musical career. "It just kind of hits you that now it's real."
In addition, Beecher emphasized all of the hard work that Josie has put forward and continues to dedicate towards her musical career and development. Her dedication and grit feeds her growing talent and success, Beecher said.
About the Writer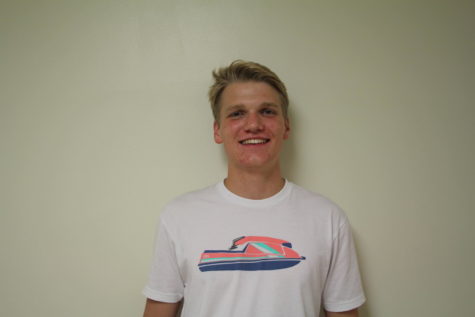 Greg Smith, Managing editor
There's no such thing as a free lunch.