Take Action Project changes will benefit students, teachers
The new state-required civics course is in its second year at LT. Faculty and students have worked on changes to create a better experience. Take Action Projects (TAP) are projects required in the course, and they have undergone significant changes since last school year. Civics teacher Jessica Lee worked on the changes to the TAP that are beneficial for students.
"This year to get them [students] to focus on societal problems and not LT problems," Lee said. "We became more realistic with the amount of time students would have to do this. We decided to shorten this [project]. I think the changes will lead to a more realistic timeline, and a more practical outcome of taking action, while gaining student connection."
Following last year, civics' teachers received student evaluations on the course. The response was overwhelmingly negative. Students believed it was unnecessary to run the project throughout the entire semester, Lee said. It was daunting and caused more unfocused work and fewer connections with the projects student finished. Due to the feedback, teachers, including Civics teacher Benjamin Lafontaine, went forth in enacting changes to the project to benefit students, such as shortening it to one month long, and focusing on societal problems not just problems surrounding LT.
"For us it's a lot of trial and error," Lafontaine said. "We tried to make it four weeks where you [students] do something you care about. We're trying to make it more manageable, and less overwhelming by shortening. Also breaking it up into manageable pieces, and smaller due dates. We hope these lead to a more enjoyable experience and resonates with students."
The Take Action Projects are a version of the required service learning component in civics classes, taken for half a semester sophomore year. About 500 sophomores take action on problems they believe are important in society in civics, student Margaret Hall 21' said. Students including Hall began the TAP project in late September and will work on them until they are due in early November, with specific dates depending on the teacher.
"It will introduce ways for students to become more active in fighting for change that they care about," Hall said. "And since these projects are shared [in class] it will allow us [students] to be introduced to all sorts of movements for change and bettering society."
These changes are implemented for the entire semester and possibly further years if the feedback is positive and results are high quality.
"Every year we will fix, every year there will be something to do," Lafontaine said. "But I think it continues to be a better project than it was the year before."
The TAP projects are important for developing civic duty in students and gaining knowledge on civic engagement. They teach students the ways to get involved without being a politician or voting, Lafontaine said.
"The whole idea behind TAP is for students to realize that they can make changes," Lafontaine said. "And that they do have some power. Create a meaningful connection with an issue or organization. It teaches them that they have agency and gain a sense of opinions about the world."
About the Writer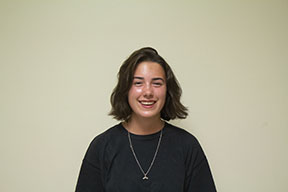 Quinn Riordan, Assistant Social Media Editor

I'm running a dojo of coolness
Sometimes you gotta work a little so you can ball a lot