Fashion show raises awareness
The National Hispanic Institute and fashion classes partnered up to raise awareness for domestic violence through a fashion show.
Falling for Fashion took place on Sept. 30 in the Reber Center at North Campus to raise money for Constance Morris House, a local domestic violence shelter.
"It just worked out really perfectly to do a fall fashion show full of women inspiring other women," fashion class teacher Lauren Engelhardt said.
The show combined fashion, games and information to raise money and awareness for domestic violence. While modeling, some girls carried signs that gave statistics on domestic violence to the audience.
The LT design class styled the models, Engelhardt said. They interviewed the models and took a field trip to Hope Chest, a local charity store, that provides funds for the Constance Morris House, to choose the outfits the models wore in the show.
For the second annual show, an intermission with a performance by the steppers was added, Engelhardt said. The intermission also included a relay race called In Her Shoes featuring male audience members that had to put on dresses, high heels and other items to teach about how men can help end domestic violence and entertain the audience.
"First and foremost [we wanted] to bring awareness to domestic violence," Engelhardt said. "So that as a community we could all come together and see what the need was and see if we could meet that need."
The show was sponsored by Small Cakes, who provided desserts for the show, and other local businesses, who provided prizes for raffles, she said. Hope Chest and Pillars Community Health both had tables set up in the lobby for before and after the show.
The show is just starting to gain momentum and in the years to come, they want to raise more awareness with the show, Engelhardt said.
"[Our hope is] that people would hear about it and they would want to participate, that they would want to join," she said.
October is Domestic Violence Awareness month. According to Pillars Community Health, 20 people per minute are victims of physical violence by an intimate partner.
Pillars has a 24-hour domestic violence hotline at 708-485-5254.
About the Writer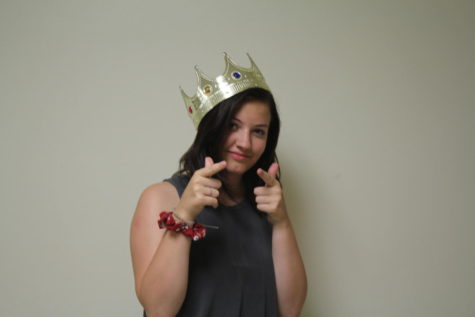 Olivia Janik, Co-Editor in Chief
I'd like to thank my arms for staying by my side, my fingers for always being there for me to count on, my back for supporting me and my hips because...