Fashion-passion comes to LT through new club
Because of an increased interest in fashion, Activities Director Peter Geddeis has approved a proposal from Skyla Stillo '19 to institute a new club.
"I want fashion club to bring together a group that wants to create and express themselves through fashion," Stillo said.
The first meeting is on Sept. 24, in room 124 of North Campus, after school. Fashion club will meet twice a month, on the first and last Monday, with help from sponsor and fashion teacher, Lauren Engelhardt. Both upper and under classmen are welcome to come, Stillo said.
During the meeting, a variety of activities can be expected, including creating dream-boards, style guidance, visitors from careers in fashion, Stillo said.
"Fashion club will likely be very successful," Activities Director Peter Geddeis said.  "Students are more hip to what is fashion, kids are starting to pay attention to trends because of the internet."
Planning for a new kind of fashion show is in its early stages, Stillo said. It would take place in the spring, when the annual fashion show is presented.
"I want a fashion show where everyone participating is comfortable in their own clothes, [and want] to show off their style in the spotlight," Stillo said.
Ever since her sophomore year, the idea to create a fashion club has been in the back of Stillo's mind.
"Planning and coming up with ideas for every meeting is difficult," Stillo said. "It was tough as a sophomore to take control of a club."
With a strong start to the school year, Stillo is ready for fashion club to take flight, she said. "Everyone that loves fashion can come and meet new people," Stillo said. "There aren't rules for fashion, so everyone can show their true beauty through it."
About the Writer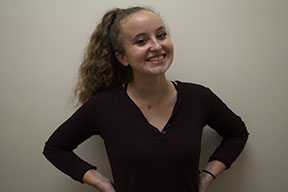 Isabella Sorice, Social Media/Photo Editor
"I don't have time to write a staff bio"