Media Mayhem: LTTV sportscaster becomes Emmy Award presenter
Lars Lonnroth, Managing Editor of Breaking News and Multimedia Content
June 4, 2018
When LTTV Sports Director Max Abrahamson walked across the stage at the Senior Honor's assembly, there were audible gasps when his scholarship sum was announced. Such a feat was possible due to his success at LTTV. In recognition for his excellence in sports broadcasting—a field he entered as a freshman—Abrahamson was awarded the Jim MacKay Memorial Scholarship. 
"This is a great chapter, but it is not a punctuation mark," Abrahamson said. "Because now I need to be the good alumna that gives back to LTTV in anyway I can. Just because I've graduated from LT does not mean I'm done with LTTV."
The scholarship, providing $10,000 towards Abrahamson's tuition at Ball State University next fall, was awarded by the National Academy of Television Arts and Sciences, the same organization that conducts the Emmy Awards.
As a result, Abrahamson and LTTV Advisor Bill Allan went to New York City May 8 for the award ceremony and—as they would learn during that evening—so much more.
"The entire trip was unbelievable," Abrahamson said. "When we got there, we didn't have a whole lot of time, so just went to the reception beforehand where I got to meet a whole lot of cool people. And then we attended the Sports Emmy Awards."
At the award ceremony, Abrahamson was recognized for his work at the television club here at LT. According to Allan, Abrahamson was also brought onto the stage and—unbeknownst to both of them—was given the opportunity to award three legitimate Emmy Awards.
"I don't think it has truly hit me what exactly went on," he said. "Sure, I can watch the video over and over, but the event still kind of feels like a dream. I don't think I would not want it any other way, because dreams like that don't come true very often. It was a special experience."
Allan echoed the special nature of the experience that Abrahamson had on that evening. Even in terms of winning the scholarship itself, Allan said that this was "the first time in my career here at LTTV and as far as I know of any student at LTTV winning an award of this caliber."
But when speaking about what occurred during the event itself, Allan made clear that this experience was almost just as special as Abrahamson winning the award in the first place.
"His video clip received a rousing round of applause—not just a polite golf clap, but people were genuinely impressed," Allan said. "I heard people whispering around me saying 'woah, that's a high school kid?'"
Furthermore, the host of "Inside Baseball," Ernie Johnson, was the one who gave Abrahamson the award and was also the one who offered Abrahamson the chance to announce some of the Sports Emmy Awards that evening.
"Ernie Johnson gives Max the scholarship, and Max steps up to the podium and says his thank yous. But, out of nowhere, Johnson says 'This whole giving out awards is grueling work. Would you mind helping me out and read the next nominations?'" Allan said. " Max was briefly stunned."
After getting through the initial shock of being asked to present Emmy Awards to individuals who Abrahamson admits are some of his idols, Allan said that Abrahamson went up to the lectern and did what he has been doing from the first day at LTTV: announcing, and doing it well, Allan said.
"Max was like, 'are you serious.' He looked at Ernie and Ernie gestures to the podium and Max stepped up and for a split second there was nothing," Allan said. "Then he just kicked it in."
In the moment, Allan—attempting to make sense of the situation—tried to figure out if this was an opportunity that is usually given to the scholarship winners. From his conversations, he seemed to get the sense that this was something different, he said.
"I leaned over to one of the scholarship committee members and I was like 'is this something they do with the kids?' and this guy said they have never, never done this before," Allan said. "I knew right away that this was something special. They really recognized this kid's ability."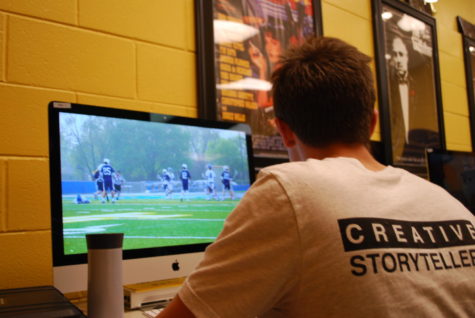 With Abrahamson winning this $10,000 scholarship and also leaving LT this year, it prompted Allan to look at the extent to which Abrahamson grew over his four years at LT and at LTTV in particular.
"The award is a big victory but it is one of many," Allan said. "Max started off just as freshman just being an announcer—he hadn't taken my class, he was involved with LTTV as a member of the TV club as an announcer—and as a freshman he had a lot to learn but he always worked at his craft. He always worked to improve."
That is what Allan said separates Abrahamson from other students he has had: Abrahamson's continual tenacity and his willingness to continue to grow and to challenge himself.
"If I were to sum up the New York trip I would say it was life-changing not just for Max but also for me," Allan said. "It put all of Max's hard work into perspective and made me realize that I stopped teaching this kid in junior year. After that I just became more of a coach. I gave him opportunities and occasional advice."
While Abrahamson made clear that he appreciates the scholarship, he also made clear that the scholarship is just the cherry on top.
"If you seek awards for validation, I don't think that's the right way to approach things," Abrahamson said. "This is for our community; this is for our school. That is the goal and that's always been the goal. We've never wavered from that."
Abrahamson graduated LT yesterday with the rest of his class. But Abrahamson will continue his work in television broadcasting at Ball State, where he will join their Sportslink program—which students are usually accepted to during their junior year of college, Allan said.
But Abrahamson maintains that, while his his career as a student at LT comes to a close, that does not necessarily mean he is leaving the grasps of LTTV
"The day I graduate does not mean I'm done with LTTV," Abrahamson said. "I carry that with me and I will always be an LTTV alum, so it is a never ending book."
In an interview, Abrahamson explained that there are three paths he wants to potentially take after his education at Ball State is complete: play-by-play announcing, producing television sports stories, documentaries or doing production work for a college or university. But Abrahamson said that he wants to work, one day, as a teacher—possibly at LT, he said.
But while Mr. Allan likely has quite a bit of time before he departs from the LT television program, Allan himself said that through his sheer dedication, Abrahamson is helping to teach others in the program how to be continually push themselves to better their work.
"I think the best thing for me as a teacher is to see the fruits of all his hard work come together because now he is an example," Allan said. "He set the bar up for others to get to and now I can try and help my students in future generations to aspire to that level."