Students march, walkout
Hang on for a minute...we're trying to find some more stories you might like.
For the past two months, there has been an outbreak sweeping across the country. Not a typical epidemic of some miscellaneous infection, but rather something far less tangible and far more empowering. From coast to coast, there has been an outbreak of student voices. Voices that are aggressively stirring our nation's political forecast by shouting two simple words: never again.
Ever since the school shooting at Marjory Stoneman Douglas High School in Parkland, Fla. on Feb. 14, students have been gathering in cities and schools around the nation to protest against school gun violence. On March 14, exactly one month after the Parkland tragedy, there was a national school walkout memorializing the victims of the shooting, which LT students participated in by organizing a school walkout at both NC and SC, LT NC walkout co-organizer Taylor Koc '18 said.
"I want something to change, even if it may never happen," Koc said. "It's starting a national discussion, and it's sort of making people become more informed about it because they see it on the news so often, even if it's not actually changing the current laws."
With a history of political activism, protesting for something she believes in is nothing new for Koc. Yet, there stands a large divide between her previous activism and the demonstrations she is currently participating in. Unlike before, walking out in regards to school gun violence is a topic much more personal and, she said, hits closer to home.
"[School walkouts] impact us as students, because [a shooting] is something that you don't want to even fathom," Koc said. "You don't want to think about a school shooting happening at your school. It's just really personal–we're students and there are other students that are dying."
In the days leading up to the walkout, Koc, Pilar Valdes '19, Amanda Kural '19, Mary Beck '20 and many other upper and lower classmen got together to organize the memorial. Before the day of action, the students approached Principal Brian Waterman and assured him the walkout would be handled appropriately, he said.
"I was proud about how they handled themselves," Waterman said. "I was proud about how they did it in a respectful way, a peaceful way, and a civil way."
After the tragedy in Parkland, Waterman knew LT students were going to participate in the walkouts, he said. Leading up to the demonstration, he met with several other principals in the DuPage county area and West Suburban Conference to hear each others philosophies on how to handle student walkouts. Through discussion and thought, the LT leadership team decided to not punish participating students as long as they did not disrupt a peaceful learning environment, Waterman said.
"[Our decision] wasn't specific procedures or anything," Waterman said. "We're always going to maintain a compassionate student centered approach, we're going to respect student's right to protest and we're going to keep the learning environment moving forward."
On the other hand, student's respect the way the administration allowed them to walk out, Koc said. Contrastingly, however, some teachers have not been as receptive to the demonstrations as some students wish they were.
"I feel like some teachers are taking it on themselves to say their own views," Koc said. "They say things like 'Oh, kids are over dramatizing things these days and turning this into something that it's not.' I think they should be more touchy about the subject because it is so personal."
In comparison to LT, some schools were not as accepting to students walking out, according to the Chicago Tribune, including Downers Grove North where the administration issued Saturday detentions to every student who exited the building to participate in the demonstration. Similarly, Hinsdale Central student participants were issued an unexcused absence and a truancy charge for the time they were absent from class, as reported by the Devil's Advocate, Hinsdale Central's student-run news magazine.
Nevertheless, the LT walkout on March 14 was a success at both campuses, with a couple hundred NC student participants and as many as 900 at SC. Throughout the walkout, students said they felt empowered by the words shared and actions made by the organizers, including participant Maddie Dixon '18.
"I feel like the youth is the future of this country and we should protect ourselves," Dixon said. "It's not about being mean to each other or posing my ideas on somebody else's, but just creating a society that I'm proud to live in."
Yet, the momentum is not slowing down, for students plan to make their voices heard once again on April 20 in a national school walkout on the anniversary of the Columbine massacre, where a large number of LT students are expected to walk out, Koc said.
Although gun laws are a large aspect of the protests, national walkouts are focusing on more than just political issues.
"Today, we stand for hope," Valdes said to the NC crowd. "We stand for kindness. We stand for love. Never forget that. Love can bring us together and help us heal after a tragedy. Love can prevent a tragedy. Remember the unifying force that is love. It is a secret weapon."

About the Writer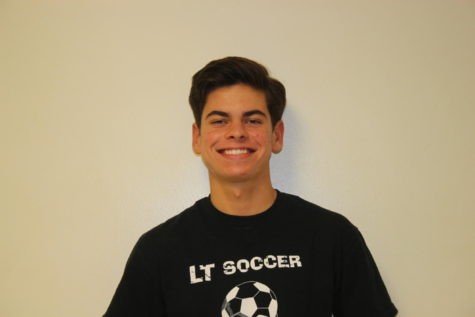 Spiro Kass, Editor-in-Chief
Hi my name is Spiro (pronounced sp-ee-ro, NOT sp-y-ro), and I am the Editor-in-chief of the LION Newspaper. I'm extremely glad to have an amazing staff...