Cupid's Cabaret charms in light of recent school, national events
Devon Mott '20 stood on the stage of the Corral on Feb. 23. As the second act of the night the room was quiet, but nerves still coursed through his veins as he sang "Castle of Glass" by Lincoln Park. Bubbling just above those nerves was a desire to do well.
"For me, specifically, it was more everyone had their eyes on me," Mott said. "But I was just showing them how I'm able to do something that I'm proud of, that I know I can do well."
Earlier that week, there had been many concerns with safety due to a student overhearing and reporting a conversation as a threat, Principal Brian Waterman said in an email. Many of these false accusations pointed to Mott as the threat, but he did not let this get in the way of his performance, he said.
As Mott finished the final note of the song, the crowd stood in a standing ovation.
"Cupid's Cabaret was the first time [Mott] came back to school," music teacher John Musick said. "He had done nothing wrong, and he stepped back into school culture in a really positive way. It was very, very powerful to watch students who may be skeptical or still a little fearful open up, trust that the adults had done all they needed to and trusted this guy back into their musical family."
The eighth annual performance of Cupid's Cabaret was held in order to give students an opportunity to showcase their talents and raise money for the Vocal Music Activity Fund, Choir Board advisor Constance Lyda said.
Choir Board began talking about the event in August, Lyda said. After working to get performers and audience members interested, they had to find a way to include as many interested performers as possible in the event's time constraints while still maintaining a high standard of quality.
As the day of the event grew nearer, many performers, such as Mott, were excited to show all the hard work they'd put forth outside of school.
"From others [I've gained] a new point of view of me," Mott said. "Freshman year, I was kind of known as the guy that blows up all the time, but now it's shifting to a new perspective towards me."
The event, which lasted from 4 p.m. to 9:30, hosted an estimated 200-300 people, Musick said. Valentine's Day decor, including red and white balloons and twinkle lights, assisted in creating a welcoming environment.
"It's always a great time, but in the wake of everything that had occurred in the nation and at LT—with emotions at such a high pitch that our assembly was canceled—it was like hope, encouragement, and people pulling together rather than letting divisiveness and misunderstandings determine words and actions," Lyda said.
There were 50 acts scheduled to perform, consisting of solos, duets, and bands. While many had accompanists, there were also many that accompanied themselves. Some, such as Rita Nelson '20, even sang original pieces.
"I was nervous while performing," Nelson said. "It is different to sing something you wrote. It's like exposing yourself."
With tickets at $5 per person, the event raised $1,200 for the Vocal Music Activity Fund, which uses the money to finance the Kathi Best vocal music scholarship and lower student tickets to see professional musical acts.
About the Writer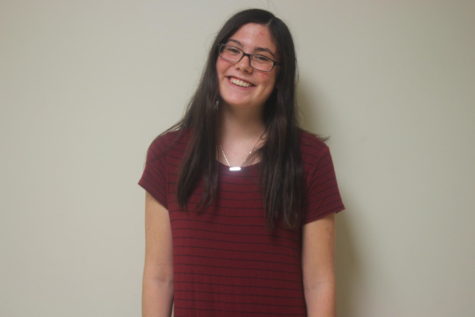 Claire Williams, Copy Editor
Can it please be leaf catching season already?