Taste of LT Soul embraces diversity, celebrates equality through food
For the third year in a row, the Taste of LT Soul brought together students and clubs of numerous backgrounds for a celebration of their respective cultures.
The Taste took place Feb. 27 after school in SC D-103, Black and Multicultural Club advisor Elizabeth Watkins said. The Black and Multicultural Club first organized the event three years ago, and works to put it together each year.
"[The Taste] is organized to show diversity," Watkins said. "I think it's important because students can learn from each other."
The clubs that participated include NHI, East Asian Culture Club, PRISM and many others, all whom brought significant foods to the event to represent their cultures. For example, Black and Multicultural Club served collard greens, caramel cake, chicken wings and "a bunch of different soul foods," Black and Multicultural Club President Nina Shearrill '20 said.
"Food brings people together," Shearrill said. "I need food, other people need food, we need food to survive. The easiest way for people to learn about other cultures is through food because it's so simple. It doesn't require talking or a conversation, just an appetite."
The Taste of LT Soul mirrors the Taste of Chicago, Shearrill said. Similar to the Chicago food vendors that give out samples of their food in hopes that they will attract people to their restaurants, the purpose of the Taste of LT Soul is to entice people to learn a little more about a culture by trying their food.
"The Taste is a way to celebrate diversity and open the door to different cultures and what they eat," Shearrill said. "LT has minority groups that aren't always represented, so this is a chance to showcase some of the other cultures and to remind people that although we aren't in every club and we aren't always on the front page, we still exist here and we have our own voice and our own culture."
Not all clubs represented were heritage based clubs, PRISM leader MacKenzie Thomas '19 said. For instance, PRISM had a table at the Taste and celebrated their diversity with rainbow cupcakes.
"We have our own culture as well. At the Taste of LT Soul, we were able to represent that along with the other cultural clubs," Thomas said. "Gay history has its own culture, which I think is important and should be represented at LT."
The Taste succeeded in teaching about and celebrating different cultures, Shearrill said.
"LT has many different groups of students from many different cultural backgrounds," Watkins said. "We should all know and understand each other's background. Hopefully we can all grow to learn to respect other cultures."
About the Writer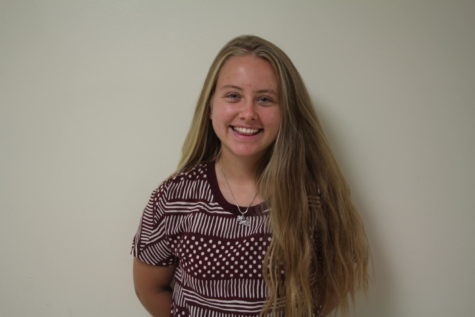 Georgia Dougherty, Pulse co-editor
Things I love include my bulldog Cow, chapstick, sneezing, saying the pledge of allegiance in Latin, and the Oxford comma. Things I don't love are vacuum...