State no longer requires daily P.E.
Physical education classes required three, not five, days per wee
In the fall of 2017, the Illinois General Assembly changed the state's requirements for daily physical education in schools. Although LT students' schedules for the 2018-19 school year are already set, the new law and ambiguous guidelines caused confusion and uncertainty.
The state no longer requires P.E. five days per week. That number has been reduced to three. This law is not likely to change the amount of P.E. that LT requires for graduation and as a part of its curriculum, Physical Welfare Division Chair John Grundke said.
"We also know about the importance that P.E. has and the fact that when you are physically active you're going to learn more, and it's good for your brain," Grundke said. "Knowing all that, we don't think there's going to be a huge change, but we always do take a look at our curriculum and we're looking at what is best practice and what we could offer that our students and our community would be interested in."
For instance, a group of P.E. teachers from LT recently attended a self-defense curriculum seminar, Grundke said, and LT is considering adding a self-defense course as a P.E. option.
In addition, schools may now excuse students in grades 7-12 from P.E. "on a case-by-case basis" for involvement "in an interscholastic or extracurricular athletic program," the new law says.
The law also allows excusal from P.E. for juniors and seniors to take classes required for high school graduation or college admission, or if they are in an interscholastic sport. These excusals were previously allowed under the law and are used by LT, Curriculum and Instruction Director Scott Eggerding said.
Maggie King '19 has applied for a P.E. waiver for the 2018-19 school year in order to fulfill her practical art requirement with AP Computer Science, she said. King would not have room in her schedule to take P.E. and finish the practical art requirement, so she hopes her application will be accepted. Such an excusal is allowed under the law, since King must fulfill the requirement in order to graduate. She is a three-sport athlete, and has an athletic study hall in the fall and in the spring. King would not have an athletic study hall next year, since she hopes to have another class in her schedule rather than P.E.
"Cheer doesn't count as a sport to get athletic study hall," she said, "but I'm still committing roughly the same amount of work and time to it as I do in other sports."
Previously, the law allowed excusal from P.E. for participation in a for-credit marching band program for grades 9-12 and still does. LT, however, does not excuse members of marching band from P.E., Eggerding said. Some area schools do so to varying degrees.
Although the law uses the terms "interscholastic" and "extracurricular" separately, it does not define them. The Illinois State Board of Education (ISBE) has said that under the new law, excusals are only allowed for school-related activities, according to a post on the website of the law firm Hodges, Loizzi, Eisenhammer, Rodick & Kohn, which specializes in school law. ISBE is expected to issue clarification about this clause but has not said when it will do so, the firm said.
The exclusion of non-school-related athletic activities means that members of groups such as club hockey cannot currently be excused from P.E. to athletic study hall, as they could not be under the previous law, Eggerding said.
Due to the lack of clarity in the new regulations, LT is not currently considering changes to its curriculum, Eggerding said. However, LT will observe and consider the courses of action other schools follow and take into account new information from the state as it is released.
P.E. teacher and Assistant Physical Welfare Division Chair Joann Pyritz echoed Eggerding's words.
"LT is always careful and thoughtful prior to making changes to its curriculum," Pyritz said. These principles will continue to apply as LT considers how these new regulations may impact its curriculum, and it is still uncertain whether and how these changes in the state's requirements will have any impact here at LT.
About the Writer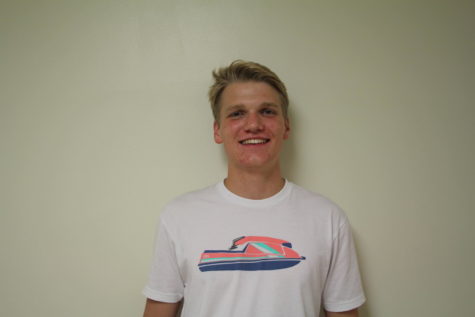 Greg Smith, Managing editor
There's no such thing as a free lunch.