Business Education Division offers Consumer Economics online
Late January is always a stressful time for busy students like Emma Dahl '19. The first month of the calendar marks the time period in which incoming freshmen through current juniors have to decide which classes to enroll in the following school year, while being mindful of graduation requirements.
Luckily, students now have a little more flexibility after a recent decision that allows Consumer Education to be completed online. Now, Dahl is able to take more classes that she is interested in during the school year, rather than having Consumer Ed occupy a valuable schedule slot.
"Online consumer is an amazing option for me," Dahl said. "I will be able to put Choir back in my schedule, a class I previously needed to remove to fulfill other requirements. I will also be able to take Organic Chemistry. Without taking Consumer online, I would have had to choose between Chemistry and Choir, and now I am able to take both."
This summer, students will be able to fulfill their Consumer Ed graduation requirement by taking the Illinois Virtual School online course. After years of turning students away from Consumer Ed summer school due to maximum classroom occupancy, this new option will allow all interested students to complete the course over the summer, Global Studies Division Chair Paul Houston said.
Unlike the summer school course that takes place over three weeks, students are able to complete the course over the span of 10 weeks between June 7 and Aug. 16, which might be a factor that some students may struggle with, Consumer Ed teacher Joan Kizyma said.
"I certainly don't think that everybody is a good candidate for taking an online course at this point in time," Kizyma said. "It really depends on the student".
As a teacher who has instructed this class for over 30 years, Kizyma believes that in-class participation serves the course well for pacing purposes, she said.
"I could forsee a lot of students thinking that they have a lot of time to do everything, but will wait until the last minute and not be able to pull it off," Kizyma said. "It's not like a classroom situation where I'm testing on a certain date or collecting homework on a certain date."
Similarly, Dahl expects that her greatest challenge will be finding the discipline to complete the course at a substantial pace, she said.
"I expect the course to be a judge of my motivation and test my procrastination," Dahl said. "It's a lot easier to do your work while you're in a classroom than it is when it's a beautiful summer day and you're at home on your computer."
Nonetheless, Kizyma affirms that she thinks Illinois Virtual School will teach the course material sufficiently, and that the online option serves well for students who are looking to free up their schedules, she said.
As far as the mechanics of the course, Director of Curriculum and Instruction bensures that the online course adequately covers the content of the class, he said. The course is composed of eight separate units, which consist of economic systems, finance, credit, transportation, insurance, basic consumer purchases, and finishes off with a financial simulation. Additionally, students will participate in a mixture of readings, written assignments, discussions, quizzes, tests, projects and cumulative exams, according to the Illinois Virtual School website. A main difference, however, is the price students have to pay to enroll in the class. While summer school enrollment is $195, the cost of the Illinois Virtual School course totals up to $225.
Although the course is thorough and interactive, there is still skepticism that the online class will successfully come to fruition.
"There are many benefits [of the course], but we're speculating," Houston said. "We'll see. It may be a huge hit, it might be a mix or it might be problematic."
In order to keep problems to a minimum, Eggerding will be conducting focus group surveys before and after the course with students who are taking the class, he said. The surveys will ask what the student's expectations were beforehand, whether or not it met their expectations, and what challenges and benefits came along with completing the course. With this information, administrators will then decide how to manage the course offering in the future.
When looking at the broad spectrum of the situation, Houston believes the online course serves a purpose of helping students accomplish as much as they can in four years, he said.
"LT is a great place with tons of great offerings and not enough semesters to take it all," he said. "That is why so many kids try to take summer school classes. We have a lot of kids with talents, interests and aspirations. They want to get a lot done in four years of high school, and this allows them to do that."
About the Writer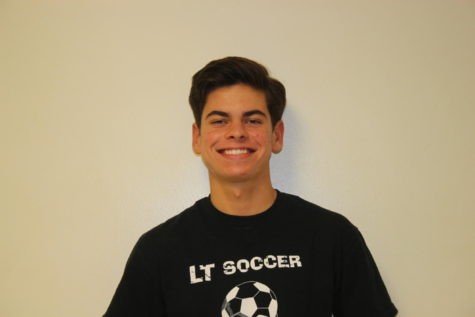 Spiro Kass, Editor-in-Chief
Hi my name is Spiro (pronounced sp-ee-ro, NOT sp-y-ro), and I am the Editor-in-chief of the LION Newspaper. I'm extremely glad to have an amazing staff...