LT honors MLK Jr. with assembly, student presentation, speakers
Hang on for a minute...we're trying to find some more stories you might like.
Eighty-seven years ago, Rev. Dr. Martin Luther King Jr was born. Throughout his life,. The first federally recognized commemoration of King and has legacy occurred in 1986, and has been celebrated on the third Monday of January every year since. This year, LT honored the famous activist's memory with more than just a day off; Black and Multicultural Club (BMCC) also organized an MLK Jr Day assembly for the community.
"[King] risked his life in order for future generations of African Americans to have rights, to live in a more accepting community and be able to have the same rights as Caucasian Americans," BMCC President Nina Shearrill '20 said. "It is extremely worthwhile to take some time out of my life, and thank him and honor him for all the sacrifices he made."
The presentation, titled "The Ultimate Measure of a Man" took place at the SC PAC Jan. 11, and ran from 6:30 to 9, and was the sixth year LT has hosted the event. A quote is showcased every year, chosen by BMCC sponsor Elizabeth Watkins. She tries to choose words that will inspire others, and felt that this year's theme was applicable to the situation of the United States currently. In addition, BMCC recruited local church choirs to sing, Shearrill said.
"We mix it up, but we always try to incorporate music," Watkins said. "[King] loved music, and [civil rights protestors] were driven by gospels and spirit music as they were marching."
LT musicians played as well, and violinist Brandon Jackson '18 played an original song alongside traditional hymns with three other Sinfonietta students.
"The two spirituals that I played are very famous," Jackson said. "Everyone in the crowd knew them, it was incredible. It was reliving history through music."
The assembly featured historian speakers, preachers, and student readings, Watkins said. Shearrill read two pieces of poetry, alongside the vice president of BMCC who read prose, she said. The first reading was an excerpt of "Letter from a Birmingham Jail."
"I pick out a subject matter people should know," Watkins said. "Like Birmingham jail… from that jail cell, the vision and the picture that came out of that [are] all these different books and sermons. The quote, 'why wait'… it moved the people to stop waiting, to march for themselves."
The event will continue next year, and Shearrill has hopes that eventually the assembly will take place during school day. Eighty community members were in the audience, Watkins said, and she is impressed as the turnout has risen over the years.
"Everyone should know their history," Watkins said. "[King] became a part of history, in the period where [civil rights] were devastating. History [is something] you cannot get rid of. We made history that night, we make history by talking about why should we remember him, and why he is important. We all should know our history; it should be something for all races, without divisions."

About the Writer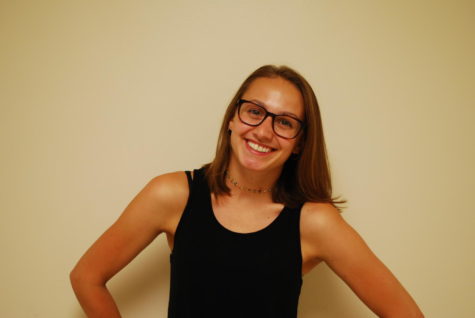 Grace Dekoker, Editor-in-Chief
Hello! In case you missed it up top, my name is Grace DeKoker, and I'm the editor-in-chief of the LION this year. If you ever need a cheesy science joke,...