LT alumnus covers Olympics
Hang on for a minute...we're trying to find some more stories you might like.
The Olympics are one of the most exclusive events in the world. A competition of the best of the best from 93 countries begins in two short weeks in Pyeongchang, South Korea, and LT graduate Jack Patel '14 will be taking part for a month, not as an athlete but an intern for the official broadcaster of the Olympics, NBC.
"I'm most looking forward to being not just at the Olympics but learning about all the competing countries," Patel said. "The Olympics is one of the biggest culminations of so many different cultures that I can hopefully learn so much more from. I can't wait to gain so many new experiences within South Korea and its culture while also meeting individuals from all across the globe."
Patel, a senior studying broadcast at Syracuse University, found the internship through an on-campus recruitment process, he said.
"Moving on from LT, I knew Syracuse would be the best place to further continue into the sports broadcasting industry," Patel said. "Syracuse has some of the best education in the country for broadcasting but they also go beyond most programs. The school is so helpful to students looking to find jobs, internships or other experiences. In addition, the campus has so many opportunities outside the classroom. There are multiple radio stations, a student run TV station, a student run newspaper, numerous magazines as well as opportunities with the brand new ACC Network."
Syracuse University is a top 10 university for communications and journalism, according to USA Today. The school's notable alumni include Bob Costas, Marv Albert, Mike Tirico and Ian Eagle.
"Earlier this year, I was able to broadcast a Syracuse men's soccer game that was aired digitally on the ESPN app," Patel said. "No other school in the country can offer so many options to work in journalism and broadcasting outside of the classroom."
While he hopes his future will include sports broadcasting, much of Patel's work will be behind the scenes in Pyeongchang, he said. As for further information, NBC has asked that the interns do not share specifics of what they will be doing.
"From previous interns I have known, though not at Olympic level, they could be doing anything," WLTL General Manager Chris Thomas said. "It could be getting coffee, it could be escorting olympians from interview to interview, it could be a lot of making sure people are comfortable in the green room before an interview. When you're there you get to see the behind the scenes and just by being there you are exposed to it so much more which makes it a very valuable experience."
Patel found his start at LT's radio station, WLTL. A manager for two years, as a junior he was the Assistant Sports Director and as a senior he was the Promotions Director and the co-Rock-A-Thon Director, Thomas said.
"LT definitely gave me a jump start within in the industry," Patel said. "I absolutely loved my time working as a student manager for WLTL and that sparked my interest in broadcasting as a career. WLTL and [Mr.] Thomas not only gives students so many on-air opportunities but also a look into the industry with different conventions and speakers. It is such a blessing that LT has so many opportunities to get involved in things you are interested in, whether that be radio, TV or something completely different. Taking advantage of the resources LT has to offer has been immeasurably beneficial to the growth of not only my career, but also as a person."
Considered one of the best high school radio stations in the nation, WLTL and other high school media experience can be the deciding factor in receiving and internship or not, Thomas said.
"[WLTL, LTTV, LION, Tab] give students the opportunities to get started earlier than most," Thomas said. "Places like NBC Sports are going to have hundreds, if not thousands, of applicants going for the same job and they all seem to be on the same playing field because they want college students. But, when you get a kid like [Jack] Patel who has been doing radio for four years at LT and then another three and a half years at Syracuse, he's got close to double the experience of the usual applicant, which sets him apart."
While Patel does not expect to be covering sports in person, he is fortunate and thankful to even be able to go, he said.
The Olympics will air on a variety of NBC stations from Feb. 8 to 25 and consists of seven sports with 15 different disciplines, totaling 102 events. Turn to page 14 in Pulse for more coverage of the winter Olympics.

About the Writer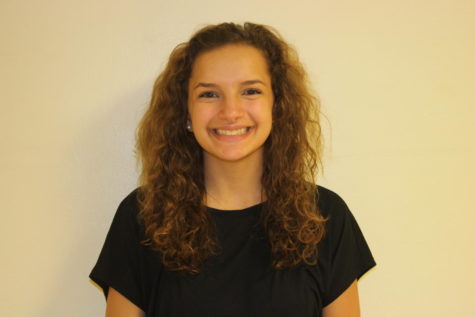 Mikaela Larson, Sports Editor
My name is Mikaela Larson and my passions include The Office, dogs, feminism, and of course: sports. Along with LION, I am the Marketing Director at WLTL...