Athletic training offers aid to students
Three times a week, student athletic trainers student athletes with injuries that may occur during practices. The dedicated student trainers work two seasons per year and work with any athlete that might need assistance. Throughout the year, trainers become close, create lasting friendships and impact each other's lives.
"To be a trainer, you don't necessarily have to be involved in sports," student athletic trainer Maggie Hennessy '19 said. "Many trainers aren't, or they used to be. We have trainers who used to be super athletic but injured themselves, so they became trainers to help others, which I think is really awesome."
After trainers commit to the club, they begin to learn the basics of physical therapy and medicine- namely how to tape and wrap injuries, especially ankles, wrists and fingers. Athletic trainers also must be certified in first aid and basic life support CPR, Certified Athletic Trainer Kristine Vins said.
"Student trainers have an opportunity to witness first-hand the injury process," Vins said. "Under our supervision, they get to work with actual athletes so they can go into medical programs saying, 'This is something I've seen and done already.'"
Along with a substantial amount of certification that has to be completed comes an even bigger time commitment. A minimum of three days per week in the training room is required to be a trainer, with each session usually lasting until 6 p.m. Trainers also have to attend every home sporting event in the season they are assigned to, Hennessy said.
"The time commitment is a huge aspect of it," Hennessy said. "That's what I struggle with the most, because I'm so busy with school and homework. Besides that, learning all the proper tapings is difficult too."
However, the benefits are far greater than the hardships. Student athletic trainers meet friends that they otherwise might not, and make lasting friendships that last beyond high school, Vins said.
"The people you're with tend to become like a huge family," Hennessy said. " I got really close to all the people I work with and I just knew I had to keep doing it."
Currently, wrestling is in season and Hennessy, alongside five other student trainers, work at home meets from 8 a.m. to noon, aiding athletes who may become injured during an event. The four certified adult athletic trainers, Bob Fichter, Brad Skendzel, Amanda Buchanan, and Vins, also must be there to ensure overall safety and assist the athletes that come from different schools, Hennessy said.
"There's a different aspect to it that I don't think people realize," Hennessy said. "We need to make sure the athletes can keep the wrappings on; like in wrestling, you need to make sure their bandages won't fall off. You need to do a good job."
While there are no official prerequisites to becoming a trainer, many trainers take Sports Medicine as an elective to further their knowledge and help them become better trainers, Hennessy said.
"Membership in the student athletic training club is beneficial for anyone who has any interest in going into any medical field," Vins said. "We have had students decide that athletic training is for them and they choose to pursue it, particularly in the physical therapy, sports medicine, and paramedical fields. I hope that the student trainers are given some guidance in terms of what they may want out of their future."
About the Writer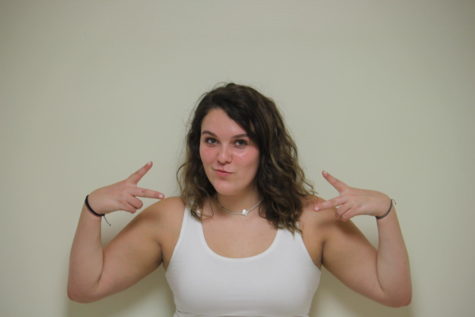 Camilla Breen, Pulse co-editor
Senior. Co-Pulse editor. Cheez-it enthusiast.

Twitter: @c_breen125