LT paraeducators organize clothing drive
For their fourth straight year, paraeducators Vicky Cernetig and Sharon Wierema organized Woolly Woolly Warmth: a clothing drive that provides warm articles of clothing to the needy.
"We realized it was a need of the community," Wierema said. "We are always trying to be involved in something with our paraeducators."
All students and teachers had a chance to donate brand new mittens, gloves, scarves, hats, socks, or money donations to the library, discovery center, mailroom, and main office of both campuses until Nov. 30, Wierema said. They will be donated to the First Congregational Church of LaGrange.
"My dad works at the soup kitchen at the church on Saturdays," Cernetig said. "I used to go once in awhile to help him. One cold morning I walked in, and he said that somebody had just come in looking for warm gear and was wondering if my dad had $5 so he could buy gloves. Then the idea hit me."
Unlike previous years, this year's drive started in October and was supposed to end Nov. 1, but they had to change the deadline.
"Our hopes were to collect more in October this year, so we could distribute before the weather changed," Cernetig said. "I think staff and students are used to the November collection time, so we extended it through the end of November.  Normally around Thanksgiving, people start bringing in everything because everything's on sale."
Last year, the paraeducators received 144 articles of clothing and $100 in donations. Cernetig and Wierema brought the donations to the church and gave the clothes to the breakfast and lunch goers, and even had enough leftover to bring to BEDS, a local housing provider for homeless individuals.
"Our goal is to get as many donations as we can and to hopefully beat what we got last year," Wierema said. "Which we have been successful at so far."
In addition to donating to the church, the paraeducators keep out around five hats, scarves, and gloves for kids at LT that are in need of items, Cernetig said. Every year they give at least five or six out.
"We [Cernetig and Wierema] usually find a day in December to run the donations to the church together," Cernetig said. "We open up the door and they [the soup kitchen goers] just horde in and grab everything. There's so many people that use that kitchen in the morning, and now they're even starting to get to know us, asking if we're bringing the items."
About the Writer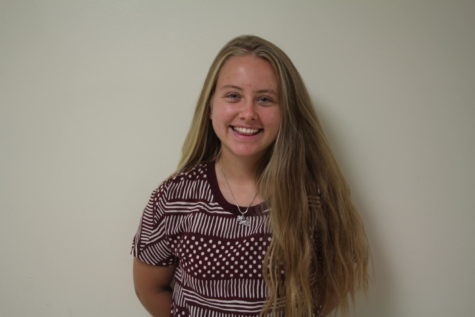 Georgia Dougherty, Pulse co-editor
Things I love include my bulldog Cow, chapstick, sneezing, saying the pledge of allegiance in Latin, and the Oxford comma. Things I don't love are vacuum...