LT alumnus grows for new urban farming company
Greg Smith, Assistant Opinions Editor
October 31, 2017
Lyons Township alumnus Craig Frymark '02 and his wife Jennifer Nelkin Frymark currently work for the New York-based urban farming company "Gotham Greens." Craig serves as the Facilities Manager of Gotham's newest greenhouse in Chicago's Pullman area, and Jennifer works as the company's Chief Agriculture Officer. Gotham Greens grows a variety of crops, including herbs and leafy green vegetables, Pullman Greenhouse Lead Maggie Rigney said.
Gotham Greens started in 2011 with a 15,000 square foot rooftop greenhouse in Greenpoint, Brooklyn. Jennifer joined the company soon after it started, Craig said. Since the first rooftop farm in Brooklyn, three more have become operational. Gotham's Gowanus, Brooklyn facility is 20,000 square feet on top of a Whole Foods Market, Rigney said. The Hollis, Queens farm is 60,000 square feet on top of the factory where the Rubik's Cube and Teddy Bear were first made. On top of the Method Soap factory in Pullman, Chicago sits Gotham's newest rooftop farm. Near this 75,000 square foot facility, which is the largest rooftop farm in the world, Whole Foods plans to build a distribution center.
"We've learned a lot from our first two experiences that tells us this has the potential to be a successful business model in any urban area," Craig said. "Most people have never had lettuce this fresh before."
Ninety-eight percent of the lettuce grown in the United States is from California or Arizona, Rigney said. As a result, much of the leafy vegetables in grocery stores can be seven to 10 days old by the time it is actually consumed in Chicago or New York. Since Gotham Greens grows its products in close proximity to where they are sold, this turnaround time is eliminated. Crops can be harvested and delivered in 24 hours, Senior Marketing and Partnerships Manager Nicole Baum said.
The new Chicago greenhouse that Craig manages uses the most automated technology out of the Gotham Greens locations, he said. The plants are rotated through the greenhouse during their 40-day growing cycle, so every day, planting, harvesting, and all stages in between occur. They are irrigated through nutrient film technique, which delivers the proper amount of fortified water directly to the plants, Rigney said. The method uses about one tenth of the water as regular farming, and the Pullman location–only two acres–has productivity comparable to 60 acres of farmland.
Sensors for light, heat, and humidity interact with shades, lights, heaters, and other technology in order to automatically maintain an optimal environment, Rigney said.
Gotham Greens is currently planning to expand further, but the company has not yet decided to make its plans public, Baum said.
"It is a really different product when you have it as fresh as we can deliver it," Craig said, "and it's still funny to me to hear people so excited about lettuce."
About the Writer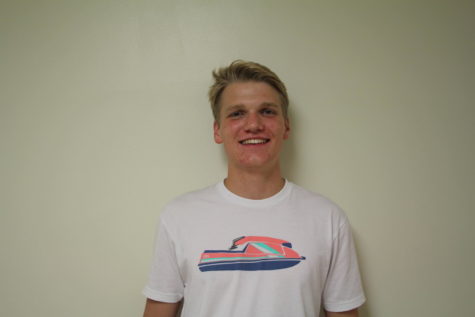 Greg Smith, Managing editor
There's no such thing as a free lunch.