Organization provides platform to give back
As Western Springs resident Caitlin McNeily drove in her car shortly after the 2016 presidential election, she realized that instead of being frustrated with events, like the election, that she couldn't control, there was instead a way she could help give back. Inspired by her husband's organization, "100 Men who Give a Damn" in Chicago, McNeily decided to create a west-suburban organization titled "100 Women who Give a Damn." This program, now consisting of over 100 women, holds events every few months where each attendee donates $100 to one local charity selected via a voting process.
"Every woman at the event is there to give of their time, to give of their hearts and to give of their mental energy," McNeily said. "I think that giving people a place to remember that making a difference doesn't always have to be so emotionally charged is important nowadays. It can also be thoughtful and kind and easy, like the events we put on."
Each event consists of five-minute presentations from three different local charities, McNeily said. After the presentations, each woman has the opportunity to vote for which charity moved them the most. The charity that receives the most votes is then donated $100 from each of the women attending the event. With around 100 women attending each event and each donating $100, the organization is able to raise around $10,000 at each gathering.
"Our goal is to make a large difference for a smaller charity," she said. "There are so many small organizations that do such good work, and a $10,000 donation could be more than what they raised all of last year. Although it may seem disappointing to the charities that didn't get selected, the opportunity to raise awareness for their organization means that generous women who were moved by their presentation often reach out and donate to them as well."
The decision to keep "damn" in their title, although initially debated, has helped McNeily and her team become more recognizable and gain an online presence, she said. The group initially had thoughts that it would turn away charities, but has yet to experience any problems or complaints. Additionally, since no other organization had used "damn" in their title, they were able to easily create a website and Facebook for their group without any overlap.
Since "100 Women who Give a Damn" is not classified as a 5013c nonprofit charity, they cannot collect the money from all of the women and give it directly to the charity that is chosen at each event. Instead, they act as a channel for donation to the charities. Each woman who attends an event brings her checkbook and is prepared to donate $100 to whatever charity ends up being chosen.
"We may eventually switch over to becoming a registered 5013c charity so that one day someone can make a donation to '100 Women who Give a Damn' and we can put those funds where they're needed," she said. "But for now, we are very happy with the work that we are able to do: giving each charity exposure and providing the chosen charity with some well-deserved funds."
At their first event in March 2017, the women were able to raise around $14,000 for a charity known as "Share our Spare", which collects baby supplies for families in need. Their second event in August raised about $8,700 for the cancer foundation, "Cal's Angels."
Their next event, titled "100 kids who give a darn" is more kid-friendly and will be held on Nov. 12 from one to three p.m. at Capris Banquet Hall in Countryside. McNeily wants to gear the event more towards kids and high-schoolers.
"I think that people by nature are altruistic," Mcneily said. "It would be great to give [high-schoolers] a platform to both give back and have a say in where they give back. Even though cooking at a soup kitchen or volunteering at a homeless shelter is great work, there are also so many other, smaller, charities that don't get as much exposure. Our organization sheds a light on amazing local charities. If we can get one person to realize their desire to give back to a certain cause, then I think that we've done our job."
About the Writer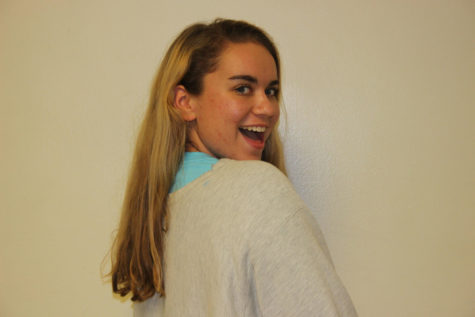 Greta Markey, Managing Editor