Illinois Republican Leader and LT alumnus resigns from Senate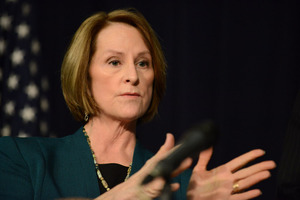 Springfield—Christine Radogno, the Senate Republican Leader in the Illinois General Assembly and an LT alumnus, has officially abducted her position in the Republican Leadership and from the Senate Saturday to "focus on my personal life" and spend more time with her grandkids, the senator said in a press conference at the Statehouse.

Radogno (R-Lombard) announced her resignation on Thursday, saying in the press conference that her intentions to leave predated her failed attempts to come to a compromise to end the 3-year-long budget impasse—or grand bargain, as it was dubbed—with Senate President John Cullerton (D-Chicago), which fell through earlier this year.

Radogno was serving a two-year term and decided that she wasn't going to run again—it was more of a matter of when to resign.

"It was my initial hope that my natural break point would be sending that grand bargain to over to the House, and as you all know that didn't happen," Radogno said. "But I wanted to continue and stay and try to get a resolution, because I understand the state is in a difficult spot."

But then after pushing back her resignation due to the timing not being right, Radogno said that she decided that the end of the fiscail year—which is today—would be the next natural point to leave and wasn't "sure that there was another natural break coming anytime soon."

"I feel positive about the work I've done, I feel positive about all the efforts that have been put in by the governor, by all four leaders. Every single person has contributed, I think, to where I hope the state will eventually go."

Her decision to go comes as the state is still grappling with how to solve the budget impasse in the state and as lawmakers hunker-down in Springfield during the holiday weekend to attempt to resolve the stalemate, as the state risks being downgraded to junk status by bond rating agencies.
Michael Madigan (D-Chicago) sent a letter to the rating agencies Friday to implore them to hold off their rating until a deal has been reached.

Republican and Democratic leaders in Illinois praised Radogno, the first female caucus leader in Illinois, for her service in Springfield.

"It's been an honor and a privilege to work alongside Leader Radogno these last two years as we continue to try and improve the lives of the people of Illinois," Illinois Republican Gov. Bruce Rauner said in a statement. "She is a consummate professional and public servant, who has championed fiscal responsibility and human services that help our most vulnerable residents."

Cullerton, the Senate President, said in a statement that if it wasn't for Radogno reaching out to him, "this week's leaders meetings wouldn't be occurring."

"It's been my honor to have Leader Radogno as my legislative partner, and I have cherished the opportunity to work with her as a colleague and friend," Cullerton said.

Bill Bradly (R-Bloomington) was chosen to be replace Radogno as the Senate Republican Leader who, according to the Chicago Tribune, has been a part of a "behind-the-scene efforts to replace Radogno" even before her announcement.

In a statement announcing her departure, Radogno said that "I am proud of my accomplishment—none of which were achieved alone."

She added that "I have done everything I can do to resolve the state's budget crisis. … But if the solution won't come on my watch, I hope and pray the Governor, other legislative leader, Democrats and Republicans in the Senate and House can find a path to solve the state's problems."