Equipment drive supports less fortunate
Athletic trainers collect sports equipment to send to inner-city organization
Throughout March in conjunction with National Athletic Training month, the LT student and staff athletic trainers held their second annual sports equipment drive where anyone from the community could donate gently used sports equipment to benefit The Sports Shed. At the conclusion of the drive, the equipment donated was valued at over $350.
"[The Sports Shed] is an organization in Chicago with the goal of providing equipment to underprivileged schools in Chicago that don't have the money to purchase sports equipment," athletic trainer Andrea Kovalsky said. "They may want to develop a team but could be missing the gear for it, so the Sports Shed helps to provide that equipment."
With contributions from LT sports such as softball and golf, they have already received more donations this year than all of last year's drive, Kovalsky said.
"When you are as fortunate as [LT is], it's kind of your responsibility to give and to share," she said. "We are very fortunate in the community to have the support and resources we need to get the job done while keeping our athletes safe, and so why not use the extra [equipment] we have to give back to those less fortunate."
The drive accepted relatively anything sports related, as long as it was in good condition, Kovalsky said. As of the LION press deadline, they have received supplies including golf clubs, pitching machines and baseball mitts.
"Sports are really important to development," student athletic trainer Tierney Dufficy '17 said. "They teach the fundamentals of teamwork and cooperation, and lead to a feeling of community and connection."
Although the charity drive hopes to highlights the good fortune and opportunities of the LT community, the significance of March, National Athletic Training Month, is so that people can also recognize the importance trainers behind the athletes.
"It's nice to get recognition because we're often forgot about," student athletic trainer Anna Best '17 said. "We do a lot behind the scenes which causes us to be unnoticed, but that's also the point."
LT has three athletic trainers per season which is in itself something many schools do not have, Kovalsky said. The purpose of National Athletic Training Month is to bring recognition to that lack of athletic trainers and raise awareness to the amount athletic trainers actually do.
About the Writer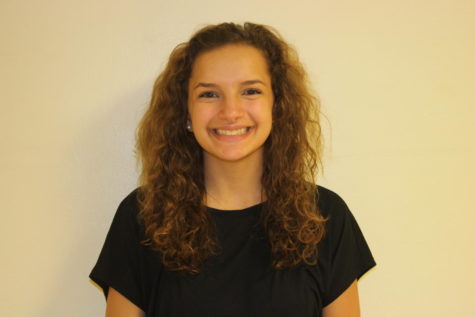 Mikaela Larson, Sports Editor
My name is Mikaela Larson and my passions include The Office, dogs, feminism, and of course: sports. Along with LION, I am the Marketing Director at WLTL...