Swim and dive goes back-to-back
Boys swim and dive wins second state title in LT history at New Trier High School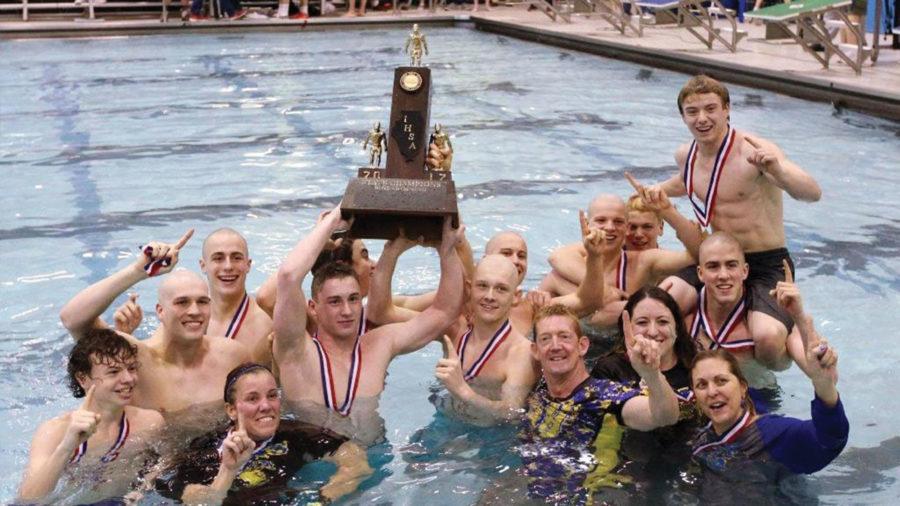 As Henry Clausen '18 smashed into the wall finishing third in the 400 Freestyle Relay at the IHSA state finals on Feb. 25, he watched Hinsdale Central's anchor finish after him. All of the pain and hard work from season suddenly seemed worth it as three words ran through his head: back to back.
"All I can remember is that they were behind me when I first dove in and all I know was that they were behind me when I finished," Clausen said.
Last year's state win was Boys Swim and Dive's first in the history of LT, head coach Scott Walker said. The team lost three seniors after last season, all of whom were influential in their victory last year.
"Everyone knew that losing those seniors was a big blow to any team, but we all worked really hard during the off season," state team member Ben Johnson '17 said. "We all gained the initiative and the drive to make ourselves better for the team, not just ourselves. Sophomore Michael Walsh '19 really stepped up into a leadership role and I think our teamwork says a lot about us as a group."
LT finished the meet with 156.5 points, beating out Hinsdale Central who placed second with 142 points. The team had a swimmer or diver who placed top six in every event except for the 200 Individual Medley and 100 Butterfly.
Preliminary events held on Friday, Feb. 24 to qualified the team for finals on Feb. 25 established LT as a force to be reckoned with, state team member and captain Matt Linden '17 said.
"Hinsdale came into the meet cheering and expecting to win," he said. "Then when our medley came in on Friday and broke a state record, their fan section got quiet. And when Henry brought home the fastest time in the state in his 200 free, they got even more quiet. We knew they were toast from there; it was awesome."
The team worked hard all season and the way they trained never changed, Walker said.
"We've been training the exact same way that we have since I became a coach here," he said. "I purposefully don't want to change anything about their training because the guys start to know the system and the routine. They know what to expect and what is expected of them."
After the first four events on Saturday, including a third place finish in the 200 Medley Relay, a fifth place finish by Clausen in the 200 Freestyle and a fourth place finish by Ryan Hammond '17 in the 50 Freestyle, LT was ranked second place to Hinsdale Central by 12 points. The next event was diving.
Heading into the diving finals on Saturday, state diver and captain Seamus Scotty '17 was ranked 10th, he said. He finished the meet placing fourth in state and earning eleven points for the team.
"On Friday I was kind of cautious," Scotty said. "On my last dive I didn't have the right approach and I came short, not earning the scores I needed. On Saturday I came back and just left it all out there. As I got out of the water after my final dive I looked directly at the team and thought 'alright, let's finish this thing off.'"
By the end of Scotty's dives, LT was ranked second place to Hinsdale by one point, but the second half of the meet was full of strong swimmers, and LT was excited, Linden said.
"After Seamus finished, everyone was super pumped up," Johnson said." My only goal was to keep them so optimistic. Seamus gave us some much needed momentum, and I wanted to keep the team moving. We know that our team has a really good second half of the meet, we just needed to focus on that and remember that."
The second half of the meet included a third place finish by Clausen in the 100 Butterfly, a fourth place finish by '18 in the 500 Freestyle, a second place finish in the 200 Freestyle Relay, a first place finish in the 100 Backstroke by Walker and a sixth place finish by Walsh in the 100 Breaststroke. The final event was the 400 Freestyle Relay in which the team finished third.
"We have all been swimming together for years," Walker said. "We had been preparing for this meet since we were really young and winning with some of your best friends made the meet even more special. The memories from last weekend will stay with us for a very long time. It's surreal: back to back."
About the Writer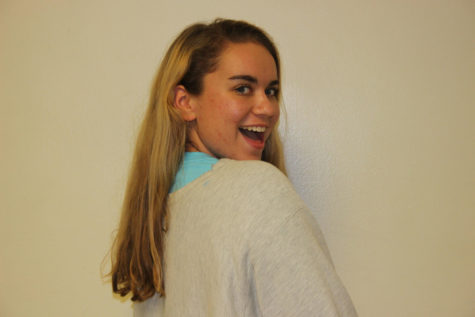 Greta Markey, Managing Editor