National merit semifinalists announced
Finalists will compete for scholarships, honors nationwide after qualifying, applying
Last year, Avery Denning '17 sat in the testing room as a junior taking the PSAT for the first time. After only taking one practice test in preparation, she didn't know what to expect.
"I only decided to take [the PSAT] because my mom told me I should take it," Denning said. "I was really excited to get my score because I truly wasn't expecting it."
National Merit Scholar Semifinalists are students who place in the top one half percentile in the PSAT or the National Merit Scholarship Qualifying test (NMSQT) in the fall of their junior year, according to nationalmerit.org. Out of 1.6 million students tested across the United States who take the test, about 50,000 place in the top 4 percent as commended scholars and about 16,000 of those students earn the rank of semifinalist.
Last year, 35 students at LT earned the commended ranking out of the 210 students who took PSAT last year and 13 became semifinalists, Katherine Smith, the Coordinator of Assessment and Research at LT, said.
"Typically, LT students take a preparation course which consists of approximately 10 sessions over four weeks. students usually take one pre-test and one post-test," Smith said.
It is not uncommon, however, to see students who earn the rank of semifinalist without taking one of these classes.
"I only took one practice test online," Denning said. "Testing is just one of my strong suits. I really get in the zone when I take standardized tests, and I can focus in specifically on the test. I usually come out feeling pretty confident and relaxed. But this time I was pretty nervous to see how my scores turned out."
In order to become a National Merit Scholar finalist, semifinalists have to maintain an outstanding grade point average, receive a letter of recommendation from their principal, earn an equally impressive score on their SAT and complete an application, according to the LT website. Once a finalist, scholars have the opportunity to earn one of 7,400 scholarships available to them.
"It's a huge deal, especially in the respect of merit based aid," Denning said. "I now have the opportunity to go to my dream college."
The 2017 LT National Merit Scholar Semifinalist list includes Merrell Brzeczek, Avery Denning, Anna Geraghty, Haley Gorman, Charlotte Hoigard, Marc Johnson, Benjamin Johnston, Colin Kubacki, Ethan Mangerson, Timothy Mikulski, Tegan Murrell, Leonard Prystalski and Daniel Wennerstrum, all seniors.
About the Writer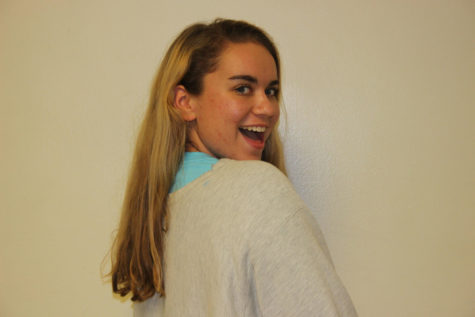 Greta Markey, Managing Editor