MAX builds swim facility
McCook gains new pool to fulfill aquatic needs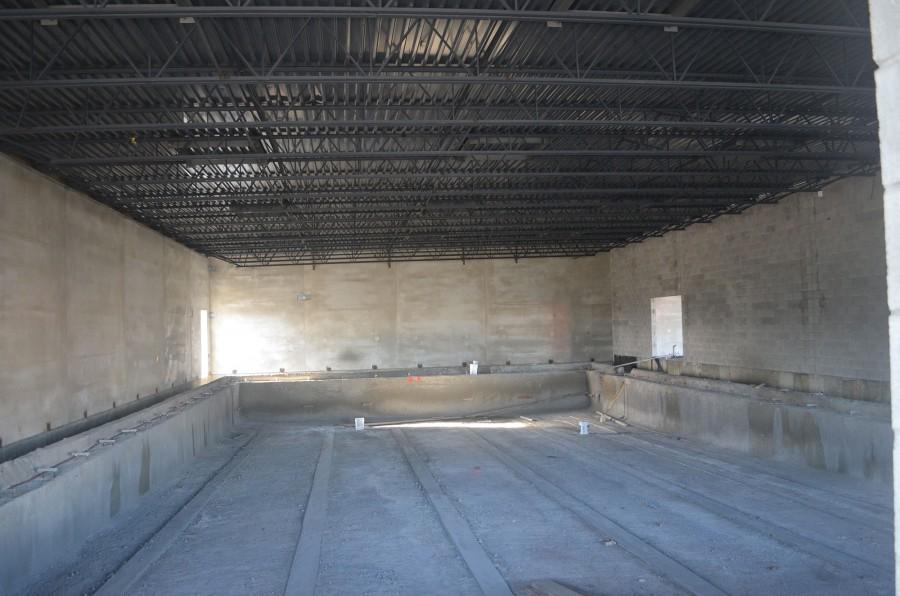 Katie Palermo, Reporter
October 27, 2015
Despite holding the McCook "MAX" name, "MAX Aquatics" and the "The MAX" are not owned by the same company. One on the investors Marty Brown, along with 19 other investors, leased the 4751 S. Vernon, McCook space in hopes of building an aquatics center to replace the La Grange YMCA pool that closed in 2010.
The land is leased for 20 years, but is renewable. MAX Aquatics is estimated to finish by the end of the year. Jan. 2016 is its scheduled opening.
"[The placement of the walls took] a lot of thinking ahead of time," Construction manager Bill Metz said.
The general contractor, Synergy Construction Group, had to face the unique challenge of fitting the walls around the pool, but not the pool within the walls. Glass windows will be placed to see into the pool area, along with 12 skylights to let natural light into the building.
The pool, built by Maverick Pools, is 75 feet by 45 feet, or 25 yards and six lanes wide. At the shallow end of the pool, the water is four feet deep and slopes to six feet at the deepest point. The pool was sprayed with a substance called gunite, which is a byproduct of concrete that has a dry texture. Gunite dries faster than concrete, therefore allowing the building process to be expedited.
The pool hopes to offer programs such as water aerobics and swimming lessons, along with many others to the community.
"Swim lessons and early childhood water safety will be our primary focus," Brown said.
"School of Fish" is the children's program offered to three-year-olds, and older. Along with swim lessons, LT could use the facility as overflow of events when they are double booked.
"[The pool] will be beneficial to the [swim] teams and clubs [who are in] need of more space," LT Swimmer, Paige Mitchell '17 said.
With the opening in the near future, Brown is looking forward to hiring LT students and other members of the community to staff MAX Aquatics.