The Monsters of Midway
Four or five years ago Chicago wasn't even on the map in the NFL. It was a city so desperate for a leader that we were willing to sell our soul to the devil just to give the reins to some guy with "great arm strength" which is a phrase I can't even say anymore without wanting to punch a wall. Years and millions of dollars were wasted on Jay Cutler. But in 2015 by some miracle the Bears new GM, Ryan Pace, set the team on track to return to the physically overpowering, defensively minded teams for which the Bears are famous.
The Bears are back and by halftime of the first game last year—which is a painfully bitter memory given the Packers' comeback —people were already saying that the Bears could win the Super Bowl. By the end of last season that crazy prediction seemed possible, only to be stopped by some bum who couldn't kick a 40 yard field goal. But this year, 2019, is the year that the Bears officially become unstoppable. They have a young and dynamic offense with a wizard of a play caller and the undisputed top defense in the league. The Bears run a defense jam packed with seven in the box; this unit of absolute dogs is led by Kahlil Mack and Akiem Hicks. Teams across the NFL have tried to slow the defense down by double teaming Hicks and Mack. But in doing so teams end up leaving Danny Trevathan, Roquan Smith, and Leonard Floyd in the perfect spot to light up some running back five yards behind the line of scrimmage. The Bears defense had a league best in points allowed per game at only 17.7, and a league leading 27 interceptions. No matter how you say it the Bears D is unstoppable and they are bound to give quarterbacks concussions and offensive coordinators nightmares.
The one area the team lacks is offensive maturity and experience. After a somewhat lackluster rookie year, Mitchell Trubisky took steps in the right direction last season. He threw for over 3,000 yards and 24 touchdowns. If you break that down, the guy is throwing just under 200 yards,  running 25 yards, and over one touchdown in each game. That isn't bad for a sophomore season, but there needs to be more improvement. If Trubisky can throw for more like 250 yards and two or three touchdowns every week the Bears won't just make the playoffs, they will be doing the super bowl shuffle like it's 1985.
In addition to adding a little juice to beef up his stats Trubisky needs to move away from some of his juvenile decision making that has plagued him in the past. Last season he threw 12 picks, this puts him tied at 20th best in the league with a handful of other Quarterbacks. Aside from a couple games, he was giving the opposing team an extra drive on offense. If he can mature a little more and cut out these errors that are usually caused by misreading coverages, the offense could turn into a formidable threat.
In the Bears season opener versus the Packers, Trubisky threw from 228 yards and 1 interception. If a few calls had gone differently the Bears could have won that game. In the last five minutes of the fourth quarter, Trubisky was nine for 12 on completions and he marched the team from their own 25 to within scoring range. Although he ended that drive with an interception, it gave Bears fans hope that we might finally have found a franchise quarterback.
Essentially, Trubisky has to evolve into a more efficient, less risky player, the defense has to show up and continue to tear apart anything in their path and the Bears will play in a Super Bowl. While the defense has been in the process of cultivation for years and we finally saw it come to fruition last season.  Whereas the offense is still in the midst of growing pains. This past year they lost Jordan Howard RB and drafted Riley Ridley WR (University Georgia Athens) and David Montgomery RB (Iowa State University). Ridley should give the receiving core a boost and Montgomery should replicate some of  the success that Howard had when he was paired with Tarik Cohen. If the rookies have decent years and the Bears receivers have better seasons with a matured Trubisky, the Bears have no ceiling. They could be the best team in the league for not just next season, but the Bears could start a new dynasty in Chicago lasting over many years.
About the Writer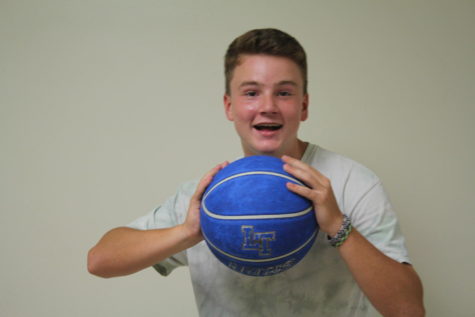 Tommy Layden, Sports Co-Editor
Tessa Voytovich

That's it just tessa